making

mak·ing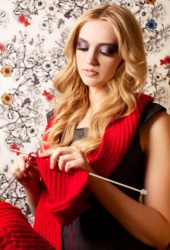 This woman is making a scarf.
noun
The definition of making is the process of creating, forming or putting together.

An example of making is knitting a scarf.
---
making
the act of one that makes or the process of being made; formation, construction, creation, production, composition, manufacture, development, performance, etc.
the cause or means of success or advancement: an experience that will be the making of him

something made
the quantity made at one time

[pl.]

the material or qualities needed for the making or development of something: to have the makings of a good doctor

Informal

tobacco and paper for making one's own cigarettes: usually preceded by the
-making
Chiefly Brit.
creating a (specified) state or condition:
shy-making, angry-making
---
making
noun
a. The act of one that makes: the making of a cake; the making of excuses.

b. The process of coming into being: trouble in the making.

The means of gaining success or realizing potential: That job will be the making of you.
Something that is made, especially a quantity made at one time.
often makings The abilities or qualities needed for development: You have the makings of a fine teacher.
makings

a. The material or ingredients needed for making something: all the makings for an apple pie.

b. Informal The paper and tobacco for rolling a cigarette.
---
making

---