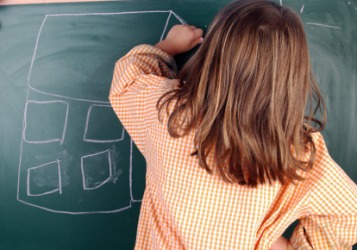 This little girl is left-handed.
adjective
The definition of left-handed is using the left hand in a better fashion than the right hand, or clumsy.

An example of left-handed is a person who uses her left hand to write.
An example of something left-handed is a compliment that is made as part of a slight insult; "You look great now that you've lost weight."
adverb
Left-handed is defined as done with the left handed, or moved in a way that an object swings right.

An example of left-handed used as an adverb is in the phrase "a left-handed hit," which means a hit where the bat was swung to the right.
---
left-handed
using the left hand more skillfully than, and in preference to, the right
done with the left hand
clumsy; awkward
designating an insincere or ambiguous compliment; backhanded (sense )
morganatic: from the custom of having the groom give his left hand to the bride at such a wedding
made for use with the left hand or by left-handed people
turning from right to left; worked by counterclockwise motion
designating one who swings a bat, club, etc. rightward
having an asymmetrical molecular or crystal structure that is conventionally viewed as having certain components on the left side: said of an isomer that is the mirror image of one that is right-handed
with the left hand: to write left-handed
in such a way that the bat, club, etc. swings rightward
---
left-handed
adjective
a. Using the left hand more skillfully or easily than the right.

b. Sports Swinging from left to right: a left-handed batter; a left-handed golfer.

a. Done with the left hand.

b. Intended for wear on or use by the left hand: left-handed scissors.

Awkward; maladroit.
Of doubtful sincerity; dubious: left-handed flattery; a left-handed compliment.
Of, relating to, or born of a morganatic marriage.

a. Turning or spiraling from right to left; counterclockwise.

b. Rotating counterclockwise; levorotatory.
adverb
With the left hand.
Sports From the left to the right: swings left-handed.
Related Forms:
---
left-handed

---