adjective
The definition of irresistible is something that you have to have because it is too desirable or wonderful to restrain yourself from having.

A delicious piece of chocolate cake is an example of something that would be described as irresistible by a person who loves chocolate cake.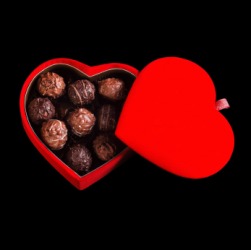 Some might find these chocolates irresistible.
---
irresistible definition by Webster's New World
adjective
that cannot be resisted; too strong, fascinating, compelling, etc. to be withstood
Origin: Late Latin irresistibilis
Webster's New World College Dictionary Copyright © 2010 by Wiley Publishing, Inc., Cleveland, Ohio. Used by arrangement with John Wiley & Sons, Inc.
---
irresistible definition by American Heritage Dictionary
adjective
Impossible to resist: an irresistible impulse to sneeze.
Having an overpowering appeal: irresistible beauty.
Related Forms:
irˌre·sisˌti·bilˈi·ty, irˌre·sisˈti·ble·ness

noun