noun
The definition of a husband is a male partner in a marriage.

The man a woman is married to is an example of a husband.
verb
To husband is defined as to conserve or use economically.

An example of to husband is to save water and other natural resources.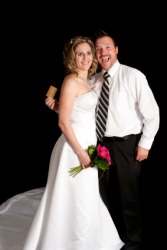 A bride with her new husband.
---
husband definition by Webster's New World
noun
a man with reference to the woman to whom he is married
any married man

Archaic

a manager, as of a household
Origin: Middle English husbonde, householder, husband ; from Late Old English husbonda ; from Old Norse hūsbondi, literally , householder ; from hūs, house plush bondi, freeholder, yeoman ; from earlier būandi, present participle of būa, to dwell: see bondage
transitive verb
to manage economically; conserve

Archaic

to provide with a husband or become the husband of; marry

Archaic

to cultivate (soil or plants)
Webster's New World College Dictionary Copyright © 2010 by Wiley Publishing, Inc., Cleveland, Ohio. Used by arrangement with John Wiley & Sons, Inc.
---
husband definition by American Heritage Dictionary
noun
A man joined to a another person in marriage; a male spouse.
Chiefly British A manager or steward, as of a household.
Archaic A prudent, thrifty manager.
transitive verb
hus·band·ed
,
hus·band·ing
,
hus·bands
To use sparingly or economically; conserve: husband one's energy.
Archaic To find a husband for.
Origin: Middle English huseband, from Old English hūsbōnda, from Old Norse hūsbōndi : hūs, house + bōndi, būandi, householder, present participle of būa, to dwell; see bheuə- in Indo-European roots.
Word History:
The English word
husband,
even though it is a basic kinship term, is not a native English word. It comes ultimately from the Old Norse word
hūsbōndi,
meaning "master of a house," which was borrowed into Old English as
hūsbōnda.
The second element in
hūsbōndi, bōndi,
means "a man who has land and stock" and comes from the Old Norse verb
būa,
meaning "to live, dwell, have a household." The master of the house was usually a spouse as well, of course, and it would seem that the main modern sense of
husband
arises from this overlap. When the Norsemen settled in Anglo-Saxon England, they would often take Anglo-Saxon women as their wives; it was then natural to refer to the husband using the Norse word for the concept, and to refer to the wife with her Anglo-Saxon (Old English) designation,
wīf,
"woman, wife" (Modern English
wife
). Interestingly, Old English did have a feminine word related to Old Norse
hūsbōndi
that meant "mistress of a house," namely,
hūsbonde.
Had this word survived into Modern English, it would have sounded identical to
husband
—surely leading to ambiguities.