noun
The definition of h is the eighth letter of the English alphabet.

An example of h is the first letter in the word "hold."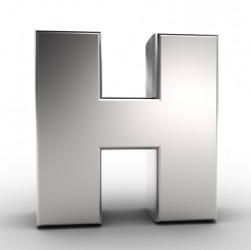 The letter H.
---
H
or H
noun
pl. h's, H's
the eighth letter of the English alphabet: from the Greek eta, a borrowing from the Phoenician
any of the speech sounds that this letter represents, as, in English, the (h) of hat
a type or impression for h or H
the eighth in a sequence or group
an object shaped like
adjective
of h or H
eighth in a sequence or group
shaped like
harbor
hard
hardness
height

Physics

henry
the horizontal component of terrestrial magnetism

Slang

heroin
high

Baseball

hit(s)
hot (on water faucets)
hour(s)
hundred(s)
husband
Also, for 2-4, 5
b
, 7, 8, 10, & 12,
h
Origin of H
Classical Latin
---
H
or H
noun
pl.
h's
h's
or
H's
also
hs
or
Hs
The eighth letter of the modern English alphabet.
Any of the speech sounds represented by the letter h.
The eighth in a series.
Something shaped like the letter H.
glass-topped keys, Royal typewriter
Th is typewriter was manufactured in the 1920s by the Royal Typewriter Company of Hartford, Connecticut.
abbreviation
Physics Hamiltonian
Physics henry
high
Baseball hit
home telephone number
hot
humidity
abbreviation
harbor
hard
husband
---
H
Letter
(lower case, upper case H)
Number
lower case (upper case H)
Initialism
(sciences) abbreviation for hour (particularly when used as a (non-SI) unit of time alongside International System of Units (SI) units)
(baseball) the statistic reporting the number of hits by a player
(slang) heroin
(computing) hexadecimal (following a number)
Homographs
Η (Greek eta)
Н (Cyrillic en)
---
h - Computer Definition
henry. See henry.
Horizontal. In line with the horizon.The x-axis on a two- or three-dimensional grid, chart, or graph in a Cartesian coordinate system. See also Cartesian coordinates, V&H, and x-axis.
H. The H series of ITU-T Recommendations. The H series addresses audiovisual and multimedia systems. See H series.
---
---
H
Variant of h
or H
noun
pl. h's, H's
the eighth letter of the English alphabet: from the Greek eta, a borrowing from the Phoenician
any of the speech sounds that this letter represents, as, in English, the (h) of hat
a type or impression for h or H
the eighth in a sequence or group
an object shaped like
adjective
of h or H
eighth in a sequence or group
shaped like