hydrogen

hy·dro·gen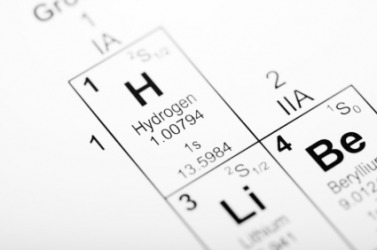 The element hydrogen on the periodic table.
noun
The definition of hydrogen is a gaseous element that has no color or odor and is flammable.

Facts About Hydrogen

An atom of hydrogen is the smallest of all elements that exist.
Hydrogen is the most plentiful element in the universe.
An atom of hydrogen is made up of two subatomic particles, one electron and one proton.
Hydrogen exists in three forms - hydrogen, deuterium, and tritium.
Tritium is radioactive and is used in the construction and operation of nuclear weapons.
The combustion of hydrogen is very clean and has little impact on the environment. The byproduct of the combustion of hydrogen and oxygen is water vapor.
Hydrogen gas was the first fuel used in inflatable aircrafts and Zeppelins, such as the Hindenburg which exploded in 1937.
Hydrogen is a perfect liquid for cryogenic freezing.

An example of hydrogen is one of the elements in water.
---
hydrogen
a flammable, colorless, odorless, gaseous chemical element, the lightest of all known substances: symbol, H; at. no. 1
Origin of hydrogen
French
hydrogène
(see hydro- and -gen): coined (1787) by L. B. Guyton de Morveau (1737-1816), French chemist, in reference to the generation of water from the combustion of hydrogen
---
hydrogen
noun
H
A colorless, highly flammable element, that occurs as a diatomic molecule, H
2
, the lightest of all gases and the most abundant element in the universe, used in the production of synthetic ammonia and methanol, in petroleum refining, in the hydrogenation of organic materials, as a reducing atmosphere, in oxyhydrogen torches, in cryogenic research, and in rocket fuels. Atomic number 1; atomic weight 1.00794; melting point −259.1°C; boiling point −252.8°C; density at 0°C 0.08988 gram per liter; valence 1. See
Periodic Table
.
Origin of hydrogen
French
hydrogène
Greek
hudro-
hydro-
French
-gène
-gen
Related Forms:
---
hydrogen

Noun
(plural hydrogens)
Molecular hydrogen (H2), a colourless, odourless and flammable gas at room temperature.
An atom of the element.
A sample of the element.
Origin
From French hydrogène, coined by Louis-Bernard Guyton de Morveau, from Ancient Greek ὕδωρ (hudōr, "water") + γεννάω (gennaō, "I bring forth").
---