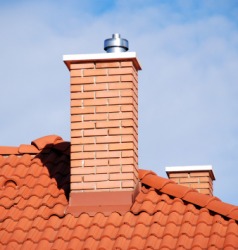 A brick chimney on a tiled roof.
---
chimney definition by Webster's New World
noun
pl.
chimneys
the passage through which smoke or fumes from a fire escape; flue
a structure containing a flue or flues and extending above the roof of a building
a glass tube set around the flame of a candle or lamp
something like a chimney; specif.,

a narrow column of rock formed by erosion, esp. that caused by waves
☆ a vertical body of ore
the vent of a volcano or cave

Chiefly Brit.

a smokestack

Dialectal

a hearth
Origin: Middle English chimene, a fireplace ; from Old French cheminée ; from Late Latin caminata, fireplace ; from Classical Latin caminus, furnace, flue ; from Classical Greek kaminos, oven, fireplace; ultimately ; from uncertain or unknown; perhaps Indo-European base an unverified form kam, to arch from source camera
Webster's New World College Dictionary Copyright © 2010 by Wiley Publishing, Inc., Cleveland, Ohio. Used by arrangement with John Wiley & Sons, Inc.
---
chimney definition by American Heritage Dictionary
noun
pl.
chim·neys
a. A passage through which smoke and gases escape from a fire or furnace; a flue.

b. The usually vertical structure containing a chimney.

c. The part of such a structure that rises above a roof.

Chiefly British A smokestack, as of a ship or locomotive.
A glass tube for enclosing the flame of a lamp.
Something, such as a narrow cleft in a cliff, resembling a chimney.
Origin: Middle English chimenei, from Old French cheminee, from Late Latin camīnāta, fireplace, from Latin camīnus, furnace, from Greek kamīnos.
The American Heritage® Dictionary of the English Language, 4th edition Copyright © 2010 by Houghton Mifflin Harcourt Publishing Company. Published by Houghton Mifflin Harcourt Publishing Company. All rights reserved.
---
chimney - Science Definition
An elongated opening in a volcano through which magma reaches the Earth's surface.
A stack of minerals that have precipitated out of a hydrothermal vent on the floor of a sea or ocean. See more at hydrothermal vent.
An isolated column of rock along a coastline, formed by the erosion of a sea cliff by waves. Chimneys are smaller than stacks.