grandfather

grand·fa·ther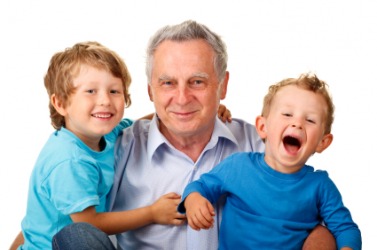 Two children with their grandfather.
noun
The definition of a grandfather is the parent of either your mother or your father.

An example of a grandfather is your mom's dad.
verb
To grandfather is defined as allow someone to continue to abide by old rules, even when new ones are passed.

An example of grandfather is when a town changes its zoning rules but allows a home to remain residential even though the area has been changed to commercial.
---
grandfather
the father of one's father or mother: also a term of respectful familiarity to any elderly man
a male ancestor; forefather
Informal
to exempt (an activity, practice, person, etc.) from a new law or regulation by or as by a grandfather clause (sense ): sometimes with
in
or
into
---
grandfather
noun
The father of one's mother or father.
A forefather; an ancestor.
transitive verb
grand·fa·thered, grand·fa·ther·ing, grand·fa·thers
To exempt (someone or something) from a new regulation that prohibits or restricts something: The new ordinance restricts the size of billboards, but it grandfathers those erected before 1997.
Origin of grandfather
V., from
grandfather clause
---
grandfather

Noun
(plural grandfathers)
(by extension) A male forefather.
Hyponyms
(father of someone's father) paternal grandfather
(father of someone's mother) maternal grandfather
Verb
(third-person singular simple present grandfathers, present participle grandfathering, simple past and past participle grandfathered)
To retain existing laws or rules only for those people or organisations that were previously affected by them, and apply new laws or rules to the unaffected people or organisations.
Origin
From grandfather clause
---
grandfather - Legal Definition
v
To include a person or entity in the benefits conferred by a grandfather clause.
---