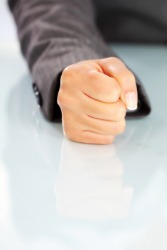 A womans fist.
noun
Fist is defined as your hand when you bunch up your fingers so they touch your palm.

When you have balled up your fingers as you are about to punch someone, this is an example of a fist.
---
fist
a hand with the fingers closed tightly into the palm, as for hitting; clenched hand

Informal

a hand
the grasp

Printing

a sign (?) used to direct special attention to something
Origin of fist
Middle English from Old English
fyst
, akin to German
faust
(OHG
f?st
), probably from Indo-European an unverified form
p?ksti
from uncertain or unknown; perhaps base an unverified form
penkwe
, five, in sense "clenched five (fingers)"
to hit with the fist
to grasp or handle
make a good fist of
Brit., Informal
to make or be a good (or poor, etc.) attempt or effort at:
a biography that makes a good fist of a complicated life
---
fist
noun
The hand closed tightly with the fingers bent against the palm.
Informal A grasp; a clutch: had a fortune in their fists and let it go.
transitive verb
fist·ed, fist·ing, fists
To clench into a fist.
To grasp with the fist.
Vulgar To insert the hand into the rectum or vagina of (someone) as a means of sexual stimulation.
Origin of fist
Middle English
from
Old English
fést
; see
penkwe
in Indo-European roots.
---
fist

---