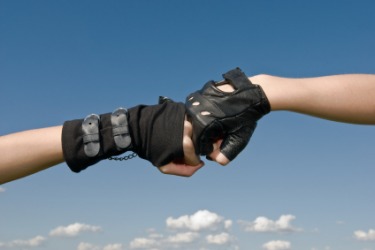 A fist bump.
noun
The definition of a fist bump is the motion of two fists hitting each other as a greeting or celebration.

An example of a fist bump is how two athletes might greet each other at the start of a game.
---
fist bump
noun
A gesture of greeting, elation, or congratulation in which one person taps the end of a fist against that of another person.
Related Forms:
---
fist-bump

Noun
(plural fist bumps)
The hitting together of two people's fists, often in celebration of an accomplishment.
Verb
(third-person singular simple present fist bumps, present participle fist bumping, simple past and past participle fist bumped)
To hit one's fists together.
---