verb
To fetch is defined as to go get and bring back.

An example of to fetch is a dog going after a ball to bring it back to the person who threw it.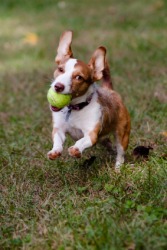 A dog fetches a ball.
---
fetch definition by Webster's New World
transitive verb
to go after and come back with; bring; get
to cause to come; produce; elicit
to draw (a breath) or heave (a sigh, groan, etc.)

Rare

to derive or infer
to arrive at; reach, esp. when sailing against the wind or tide
to bring as a price; sell for

Informal

to attract; charm; captivate

Informal

to deliver or deal (a blow, stroke, etc.)
Origin: Middle English fecchen ; from Old English feccan, earlier fetian ; from Indo-European an unverified form pedyo- (extension of base an unverified form ped-, foot) from source German fassen, to grasp
intransitive verb
to go after things and bring them back; specif., to retrieve game: said of hounds

Naut.

to take or hold a course
to veer
noun
the act of fetching
a trick; dodge
the distance a wind blows unobstructed over water, esp. as a factor affecting the buildup of waves
noun
the apparition of a living person; wraith
Origin: ; from uncertain or unknown; perhaps
Webster's New World College Dictionary Copyright © 2010 by Wiley Publishing, Inc., Cleveland, Ohio. Used by arrangement with John Wiley & Sons, Inc.
---
fetch definition by American Heritage Dictionary
verb
fetched
,
fetch·ing
,
fetch·es
verb
, transitive
To come or go after and take or bring back: The puppy fetched the stick that we had tossed.

a. To cause to come.

b. To bring in as a price: fetched a thousand dollars at auction.

c. To interest or attract.

a. To draw in (breath); inhale.

b. To bring forth (a sigh, for example) with obvious effort.

Informal To deliver (a blow) by striking; deal.
Nautical To arrive at; reach: fetched port after a month at sea.
verb
, intransitive
a. To go after something and return with it.

b. To retrieve killed game. Used of a hunting dog.

To take an indirect route.
Nautical

a. To hold a course.

b. To turn about; veer.
noun
The act or an instance of fetching.
A stratagem or trick.

a. The distance over which a wind blows.

b. The distance traveled by waves with no obstruction.
Phrasal Verb:
fetch up
To reach a stopping place or goal; end up:
"He went down and out at the same time and fetched up on his back clear in the middle of the room"
(Madison Smart Bell).
To make up (lost time, for example). To bring forth; produce. To bring to a halt; stop.
Origin: Middle English fecchen, from Old English feccean; see ped- in Indo-European roots.
Related Forms:
noun
Chiefly British
A ghost; an apparition.
A doppelgänger.
Origin: Origin unknown.
The American Heritage® Dictionary of the English Language, 4th edition Copyright © 2010 by Houghton Mifflin Harcourt Publishing Company. Published by Houghton Mifflin Harcourt Publishing Company. All rights reserved.
---
fetch - Computer Definition
---
fetch - Phrases/Idioms
fetch and carry
to do minor tasks or chores
fetch up
Informal

to come to a stop; arrive at a destination or stopping place; end up

Dialectal

to bring up or raise (a child, pet, etc.)