fetch

fetch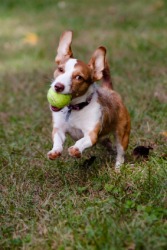 A dog fetches a ball.
verb
To fetch is defined as to go get and bring back.

An example of to fetch is a dog going after a ball to bring it back to the person who threw it.
---
fetch
to go after and come back with; bring; get
to cause to come; produce; elicit
to draw (a breath) or heave (a sigh, groan, etc.)

Rare

to derive or infer
to arrive at; reach, esp. when sailing against the wind or tide
to bring as a price; sell for

Informal

to attract; charm; captivate

Informal

to deliver or deal (a blow, stroke, etc.)
Origin of fetch
Middle English
fecchen
from Old English
feccan
, earlier
fetian
from Indo-European an unverified form
pedyo-
(extension of base an unverified form
ped-
, foot) from source German
fassen
, to grasp
to go after things and bring them back; specif., to retrieve game: said of hounds

Naut.

to take or hold a course
to veer
the act of fetching
a trick; dodge
the distance a wind blows unobstructed over water, esp. as a factor affecting the buildup of waves
fetch and carry
to do minor tasks or chores
fetch up
Informal

to come to a stop; arrive at a destination or stopping place; end up

Dial.

to bring up or raise (a child, pet, etc.)
the apparition of a living person; wraith
Origin of fetch
from uncertain or unknown; perhaps
---
fetch
verb
fetched, fetch·ing, fetch·es
verb
transitive
To come or go after and take or bring back: The puppy fetched the stick that I had tossed.

a. To cause to come.

b. To bring in as a price: fetched a thousand dollars at auction.

c. To interest or attract.

a. To draw in (breath); inhale.

b. To bring forth (a sigh, for example) with obvious effort.

Informal To deliver (a blow) by striking; deal.
Nautical To arrive at; reach: fetched port after a month at sea.
verb
intransitive
a. To go after something and return with it.

b. To retrieve killed game. Used of a hunting dog.

To take an indirect route.
Nautical

a. To hold a course.

b. To turn about; veer.
noun
The act or an instance of fetching.
A stratagem or trick.

a. The distance over which a wind blows.

b. The distance traveled by waves with no obstruction.
Phrasal Verbs:
fetch up
To reach a stopping place or goal; end up:
"He went down and out at the same time and fetched up on his back clear in the middle of the room"
(
Madison Smartt Bell
)To make up (lost time, for example).To bring forth; produce.To bring to a halt; stop.
Origin of fetch
Middle English
fecchen
from
Old English
feccean
; see
ped-
in Indo-European roots.
Related Forms:
noun
Chiefly British
A ghost; an apparition.
A doppelgänger.
Origin of fetch
Origin unknown
---
fetch

---
fetch - Computer Definition
---