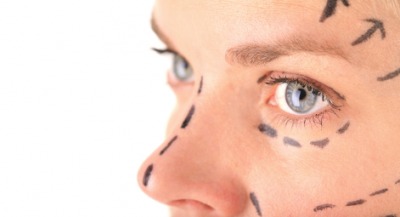 A woman prepares for a face lift.
---
face lift
☆
noun
plastic surgery for removing wrinkles, sagging flesh, etc. from the face
an altering, repairing, cleaning, etc., as of the exterior of a building
transitive verb
to perform a face-lift on (a person, building, etc.)
---
face lift
also face·lift
noun
Plastic surgery to remove facial wrinkles, sagging skin, fat deposits, or other visible signs of aging for cosmetic purposes. Also called rhytidectomy.
A restyling or modernization, as of a building.
transitive verb
face-lift·ed
,
face-lift·ing
,
face-lifts
also
face·lift·ed
or
face·lift·ing
or
face·lifts
To perform a face-lift upon.
---
face lift
Noun
(plural facelifts)
Plastic surgery to the face to remove wrinkles, fat or various signs of aging.
Verb
(third-person singular simple present facelifts, present participle facelifting, simple past and past participle facelifted)
To perform a facelift upon.
---
face lift
Variant of face-lift
☆
noun
plastic surgery for removing wrinkles, sagging flesh, etc. from the face
an altering, repairing, cleaning, etc., as of the exterior of a building
transitive verb
to perform a face-lift on (a person, building, etc.)