verb
To exclaim is defined as to cry out or speak suddenly.

An example of to exclaim is a child saying "mine" when another child tries to take their toy.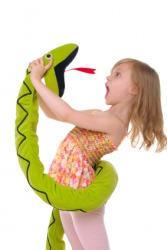 This girl exclaims over her toy.
---
exclaim definition by Webster's New World
intransitive verb
,
transitive verb
to cry out; speak or say suddenly and vehemently, as in surprise, anger, etc.
Origin: French exclamer ; from Classical Latin exclamare ; from ex-, out plush clamare, to cry, shout: see clamor
Webster's New World College Dictionary Copyright © 2010 by Wiley Publishing, Inc., Cleveland, Ohio. Used by arrangement with John Wiley & Sons, Inc.
---
exclaim definition by American Heritage Dictionary
verb
ex·claimed
,
ex·claim·ing
,
ex·claims
verb
, intransitive
To cry out suddenly or vehemently, as from surprise or emotion: The children exclaimed with excitement.
verb
, transitive
To express or utter (something) suddenly or vehemently: exclaimed her surprise.
Origin: French exclamer, from Latin exclāmāre : ex-, ex- + clāmāre, to call; see kelə-2 in Indo-European roots.
Related Forms: