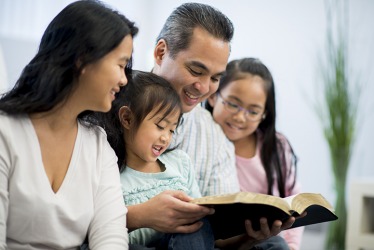 The parents promulgate the lessons in the Bible to their children by reading together.
verb
Promulgate is to make known, to teach or to put into effect.

An example of promulgate is for a parent to teach all of his religious and cultural customs to his child.
An example of promulgate is for a public announcement to be made telling the community that drunk driving test spots will be set up around the city on July 4th.
---
promulgate
transitive verb
-·gat·ed

,

-·gat·ing
to publish or make known officially (a decree, church dogma, etc.)

to make known the terms of (a new or proposed law or statute)
to put (a law) into effect by publishing its terms

to make widespread: to promulgate learning and culture
Origin of promulgate
from Classical Latin
promulgatus
, past participle of
promulgare
, to publish from uncertain or unknown; perhaps
---
promulgate
transitive verb
prom·ul·gat·ed, prom·ul·gat·ing, prom·ul·gates
To make known to the public; popularize or advocate: "Franklin … first promulgated the idea of free public libraries" ( Elaine Wagner )
To put (a law, for example) into effect by formal public announcement.
Origin of promulgate
Latin
prōmulgāre
prōmulgāt-
Related Forms:
---
promulgate

Verb
(third-person singular simple present promulgates, present participle promulgating, simple past and past participle promulgated)
To put into effect as a regulation.
---