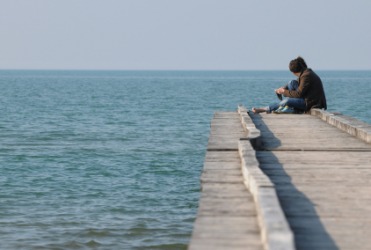 People sitting on the endpoint of a pier.
---
endpoint definition by Webster's New World
noun
a point of termination or completion
the point of furthest progress, advancement, etc.
Webster's New World College Dictionary Copyright © 2010 by Wiley Publishing, Inc., Cleveland, Ohio. Used by arrangement with John Wiley & Sons, Inc.
---
endpoint definition by American Heritage Dictionary
or end point
noun
Either of two points marking the end of a line segment.
Chemistry The point in a titration at which no more titrant should be added. It is determined, for example, by a color change in an indicator or by the appearance of a precipitate.
A tip or point of termination.
The American Heritage® Dictionary of the English Language, 4th edition Copyright © 2010 by Houghton Mifflin Harcourt Publishing Company. Published by Houghton Mifflin Harcourt Publishing Company. All rights reserved.
---
endpoint - Computer Definition
In asynchronous transfer mode (ATM) a switch or other device at the end of the ATM network. An endpoint serves as the source (transmitter) and sink (receiver) of data in ATM cell format. See also ATM, cell, network, sink, source, and switch.
In H.323-compliant multimedia networks, a terminal device on a local area network (LAN). See also H.323, LAN, multimedia, network, and terminal.
(1) The mathematical representation of an end of a line. See end points.
(2) The client side. A user's computer. See client.
(3) The target end of a communication.