noun
The definition of a dumbbell is a device with a short bar between two weights, used for exercise or building muscles, or is slang for a dumb person.

An example of a dumbbell is a set of two five pound weights used for exercise at home.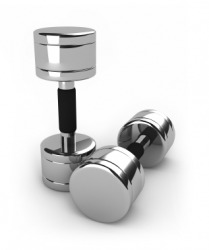 A pair of dumbbells.
---
dumbbell definition by Webster's New World
noun
a device usually used in pairs, consisting of round weights joined by a short bar, by which it is lifted or swung about in the hand for muscular exercise
☆

Origin: cf. dumb, sense

Slang

a stupid person
Origin: dumb plush bell: from origin, originally shape
Webster's New World College Dictionary Copyright © 2010 by Wiley Publishing, Inc., Cleveland, Ohio. Used by arrangement with John Wiley & Sons, Inc.
---
dumbbell definition by American Heritage Dictionary
noun
A weight consisting of a short bar with a metal ball or disk at each end that is lifted for muscular development and exercise.
Slang A stupid person; a dolt.
Origin: From an apparatus similar to that used in ringing a church bell, but without the bell, used for practice or physical exercise.
dumbbell