adjective
Dependant is defined as relying on or needing another.

An example of someone dependant is a baby animal who needs his or her mother for milk; dependent baby animal.
noun
The definition of a dependant is a person who financially relies on another.

An example of a dependant is a young child who relies on his parents for financial support.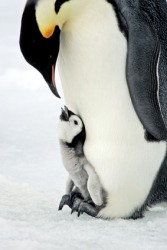 This baby penguin is dependant on its parent.
---
dependant
Adjective
(comparative more dependant, superlative most dependant)
Obsolete spelling of dependent.
Noun
(plural dependants)
(UK) A person who depends on another for support, particularly financial support (= US dependent).
(US) Common misspelling of dependent.
---
dependant
Variant of dependent
adjective
hanging down
influenced, controlled, or determined by something else; contingent
relying (on another) for support or aid
subordinate
addicted
Origin of dependent
Middle English ; from Old French
dependant
; from Classical Latin
dependens
, present participle of
dependere
: see depend
noun
a person who depends on someone else for existence, support, etc.

Obsolete

a subordinate part