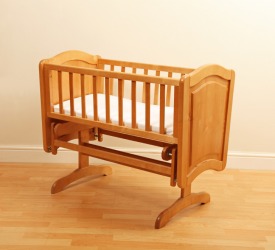 A rocking cradle.
noun
The definition of a cradle is a small, low bed for a baby, or the earliest period of life.

An example of a cradle is what a newborn sleeps in.
An example of the cradle is the place where society started, the cradle of German society.
verb
Cradle is defined as to put in a low bed for an infant or to hold in a protective manner.

An example of to cradle is for a person to carry a kitten close in her arms.
---
cradle
a baby's small bed, usually on rockers
the earliest period of one's life; infancy
the place of a thing's beginning or early development: the cradle of civilization

Old Poet.

a place of rest: rocked in the cradle of the deep
anything resembling a cradle or used somewhat like a cradle, as for holding or rocking; specif.,

wooden or metal framework to support or lift a boat, ship, aircraft, etc. that is being built or repaired
creeper (sense )
the support on which the handset of a telephone (

cradle telephone

) rests when not in use

Agric.

a frame fastened to a scythe (

cradle scythe

) so that the grain can be laid evenly as it is cut

Med.

a frame for keeping bedclothes from touching an injured limb, etc.

Mining

a boxlike device on rockers, for washing the gold out of gold-bearing sand
Origin of cradle
Middle English
cradel
from Old English
cradol
from an unverified form
kradula,
little basket; akin to Old High German
kratto,
basket from Indo-European base an unverified form
ger-,
to twist, turn from source crank, cramp, creek
transitive verb
-·dled

,

-·dling
to place, rock, or hold in or as in a cradle
to take care of in infancy; nurture
to cut (grain) with a cradle scythe

Mining

to wash (gold-bearing sand) in a cradle
Obs.
to lie in or as in a cradle
from birth or by way of upbringing: a cradle Catholic, one's cradle language
rob the cradle
to take as one's sweetheart or one's spouse a person much younger than oneself
---
cradle
noun
A small low bed for an infant, often furnished with rockers.

a. The earliest period of life: had an interest in music almost from the cradle.

b. A place of origin; a birthplace: the cradle of civilization.

a. A framework of wood or metal used to support something, such as a ship undergoing construction or repair.

b. A framework used to protect an injured limb.

A low flat framework that rolls on casters, used by a mechanic working beneath an automobile. Also called creeper .
The part of a telephone that contains the connecting switch upon which the receiver and mouthpiece unit is supported.

a. A frame projecting above the blade of a scythe, used to catch grain as it is cut so that it can be laid flat.

b. A scythe equipped with such a frame.

A boxlike device furnished with rockers, used for washing gold-bearing dirt.
transitive verb
cra·dled, cra·dling, cra·dles
a. To place or retain in a cradle.

b. To care for or nurture in infancy.

c. To hold or support protectively: cradled the cat in his arms.

d. Sports In hockey, to keep possession of (the puck) by moving the stick back and forth to prevent the puck from sliding away.

e. Sports In lacrosse, to keep possession of (the ball) by moving the stick back and forth to prevent the ball from falling to the ground or resting too low in the webbing for easy release.

To reap (grain) with a cradle.
To place or support (a ship, for example) in a cradle.
To wash (gold-bearing dirt) in a cradle.
Origin of cradle
Middle English
cradel
from
Old English
Related Forms:
---
cradle

Noun
(plural cradles)
(figuratively) The place of origin, or in which anything is nurtured or protected in the earlier period of existence.

a cradle of crime
the cradle of liberty

(figuratively) Infancy, or very early life.

from the cradle to the grave

An implement consisting of a broad scythe for cutting grain, with a set of long fingers parallel to the scythe, designed to receive the grain, and to lay it evenly in a swath.
A tool used in mezzotint engraving, which, by a rocking motion, raises burrs on the surface of the plate, so preparing the ground.
A framework of timbers, or iron bars, moving upon ways or rollers, used to support, lift, or carry ships or other vessels, heavy guns, etc., as up an inclined plane, or across a strip of land, or in launching a ship.
A frame to keep the bedclothes from contact with the sensitive parts of an injured person.
(mining) A machine on rockers, used in washing out auriferous earth.
(nautical) A basket or apparatus in which, when a line has been made fast to a wrecked ship from the shore, the people are brought off from the wreck.

The cradle was ill-made. One victim fell into the sea and was lost and the ensuing delay cost three more lives.

A rest for the receiver of a telephone, or for certain computer hardware.

He slammed the handset into the cradle.

(contact juggling) A hand position allowing a contact ball to be held steadily on the back of the hand.
Verb
(third-person singular simple present cradles, present participle cradling, simple past and past participle cradled)
To contain in or as if in a cradle.
To rock (a baby to sleep).
To wrap protectively.
To nurse or train in infancy.
(lacrosse) To rock the lacrosse stick back and forth in order to keep the ball in the head by means of centrifugal force.
To cut and lay (grain) with a cradle.
To transport a vessel by means of a cradle.
Origin
From Old English cradol.
---
cradle - Computer Definition
A holder into which a portable device is placed. Cradles typically have a plug or socket that matches up with the connector on the unit. The term often refers to cradles in a dock that hold smartphones and tablets for transferring content and charging. Cradles are also used to charge the removable batteries in digital cameras and cordless hand tools. See Apple dock, Android dock and HDD cradle.
---