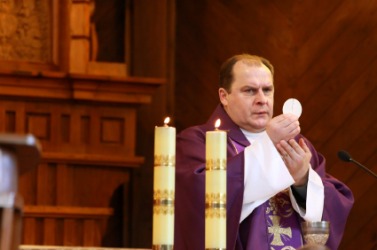 A Catholic priest observes the rite of communion.
noun
The definition of communion means sharing, or is a Christian rite in which people receive the Holy Eucharist.

An example of communion is a group of people with the same opinion on a topic.
An example of Communion is the Roman Catholic sacrament that individuals receive around the age of 7 or 8.
---
communion
the act of sharing; possession in common; participation: a communion of interest
the act of sharing one's thoughts and emotions with another or others; intimate converse
an intimate relationship with deep understanding
a group of Christians professing the same faith and practicing the same rites; denomination
[C-]

a sharing in, or celebrating of, the Eucharist, or Holy Communion
the consecrated bread or wine of the Eucharist; Holy Communion
Origin of communion
Middle English
communioun
from Old French
communion
from Classical Latin
communio,
a sharing (in LL(Ec), the sacrament of communion) from
communis,
common
---
communion
noun
The act or an instance of sharing, as of thoughts or feelings.
Religious or spiritual fellowship.
A body of Christians with a common religious faith who practice the same rites; a denomination.
Communion Ecclesiastical

a. The sacrament of the Eucharist received by a congregation.

b. The consecrated elements of the Eucharist.

c. The part of the Mass or a liturgy in which the Eucharist is received.
Origin of communion
Middle English
communioun
Christian fellowship, Eucharist
from
Old French
communion
from
Late Latin
commūniō
commūniōn-
from
Latin
mutual participation
from
commūnis
common
; see
common
.
---
communion

Noun
(plural communions)
A joining together of minds or spirits.
Origin
From Old French comunion, from Latin commūniō ("communion"), from cum ("with") + mūnus ("gift").
Proper noun
The sacrament of Holy Communion
---