verb
The definition of christening is a baptism ceremony in the Christian religion in which a baby is given a Christian name, or giving anything or anyone a name, or using something for the first time.

When a baby is baptized into the Christian church and is given the Christian baptismal name of Mary, this is an example of achristening.
When you give the nickname of Cousin It to the especially hairy guy at work, this is an example of christening him with the name Cousin It.
When you have your very first glass of champagne in your brand new house, this is an example of christening your house.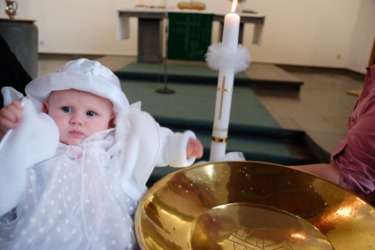 A baby at her christening ceremony.
---
christening definition by Webster's New World
noun
the Christian act or ceremony of baptizing and giving a name to an infant; baptism
Origin: Middle English cristninge: see christen
Webster's New World College Dictionary Copyright © 2010 by Wiley Publishing, Inc., Cleveland, Ohio. Used by arrangement with John Wiley & Sons, Inc.
---
christening definition by American Heritage Dictionary
noun
The Christian sacrament of baptizing and naming an infant.