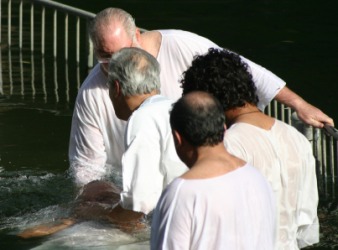 A man being baptized in a river.
---
baptize definition by Webster's New World
transitive verb
baptized, baptizing
to immerse (an individual) in water, or pour or sprinkle water over (the individual), as a symbol of admission into Christianity or a specific Christian church
to subject to an initiation or an ordeal that purifies or cleanses
to give a first name to as part of the baptismal ceremony; christen
Origin: Middle English baptisen ; from Old French baptiser ; from Ecclesiastical Late Latin baptizare ; from Classical Greek baptizein, to immerse, baptize, substituted for earlier baptein, to dip (used in post-classical Classical Greek chiefly in sense "to dip in dye") ; from Indo-European base an unverified form gwēbh-, to dip, plunge from source Old Norse kvefja, to plunge
intransitive verb
to administer baptism
Webster's New World College Dictionary Copyright © 2010 by Wiley Publishing, Inc., Cleveland, Ohio. Used by arrangement with John Wiley & Sons, Inc.
---
baptize definition by American Heritage Dictionary
verb
bap·tized
,
bap·tiz·ing
,
bap·tiz·es
verb
, transitive
To admit into Christianity by means of baptism.

a. To cleanse or purify.

b. To initiate.

To give a first or Christian name to; christen.
verb
, intransitive
To administer baptism.
Origin: Middle English baptizen, from Old French baptiser, from Late Latin baptīzāre, from Greek baptizein, from baptein, to dip.
Related Forms: