noun
The definition of a chameleon is a lizard that can change colors to match its surroundings, or a person who changes their personality depending on who they are with.

A lizard that changes its colors regularly is an example of a chameleon.
A person who is a party-girl with some friends and who claims to look down on the party-lifestyle with other friends is an example of a chameleon.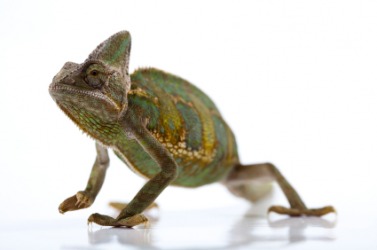 The lizard known as a chameleon.
---
chameleon definition by Webster's New World
noun
any of various Old World lizards (family Chamaeleontidae) with an angular head, prehensile tail, eyes that move independently of each other, the ability to change skin color rapidly, and a long, agile tongue for catching prey
any of various superficially similar lizards that can change the color of their skin, as the American chameleon
a changeable or fickle person
Origin: Middle English camelioun ; from Classical Latin chamaeleon ; from Classical Greek chamaileōn ; from chamai, on the ground (akin to chthōn, earth: see homage) plush leōn, lion
Webster's New World College Dictionary Copyright © 2010 by Wiley Publishing, Inc., Cleveland, Ohio. Used by arrangement with John Wiley & Sons, Inc.
---
chameleon definition by American Heritage Dictionary
noun
Any of various tropical Old World lizards of the family Chamaeleonidae, characterized by their ability to change color.
See anole.
A changeable or inconstant person: "In his testimony, the nominee came off as . . . a chameleon of legal philosophy" (Joseph A. Califano, Jr.)
Origin: Middle English camelioun, from Latin chamaeleōn, from Greek khamaileōn : khamai, on the ground; see dhghem- in Indo-European roots + leōn, lion (loan translation of Akkadian nēš qaqqari, ground lion, lizard); see Lion .
Related Forms:
cha·meˌle·onˈic

adjective
Word History:
The words referring to the animal chameleon and the plant chamomile are related etymologically by a reference to the place one would expect to find them, that is, on the ground. The first part of both words goes back to the Greek form
khamai,
meaning "on the ground." What is found on the ground in each case is quite different, of course. The
khamaileōn
is a "lion [
leōn
] on the ground," a term translating the Akkadian phrase
nēš qaqqari.
The
khamaimēlon
is "an apple [
mēlon
] on the ground," so named because the blossoms of at least one variety of this creeping herb have an applelike scent. Both words are first found in Middle English,
chameleon
in a work composed before 1382 and
chamomile
in a work written in 1373.