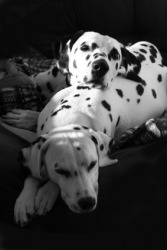 A pair of Dalmatian dogs resting.
Licensed from iStockPhoto
---
adjective
of Dalmatia or its people
noun
a person born or living in Dalmatia, esp. a Slavic-speaking one
a Romance language formerly spoken in Dalmatia
any of a breed of large, short-haired dog with black or liver-colored spots on a white coat
Webster's New World College Dictionary
Copyright © 2010 by Wiley Publishing, Inc., Cleveland, Ohio.
Used by arrangement with John Wiley & Sons, Inc.
---
noun
A native or inhabitant of Dalmatia.
also dalmatian A dog of a breed believed to have originated in Dalmatia, having a short, smooth white coat covered with black or dark brown spots. Also called carriage dog, coach dog.
adjective
Of or relating to Dalmatia or its inhabitants or culture.
The American Heritage® Dictionary of the English Language
, 4th edition Copyright © 2010 by Houghton Mifflin Harcourt Publishing Company. Published by Houghton Mifflin Harcourt Publishing Company. All rights reserved.