bologna

Bo·lo·gna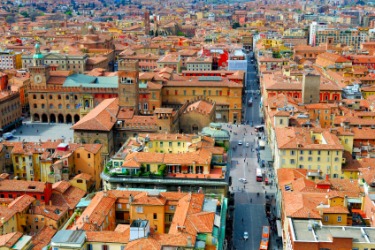 An aerial view of the city of Bologna.
noun
The definition of bologna is a type of smoked sausage made of beef, pork, veal of a mix of these, or a city in Italy.

An example of bologna is a popular lunch meat.
An example of Bologna is the city in northern Italy with a famous law school.
---
bologna
a large smoked sausage of beef, pork, or veal, or of a mixture of these
Origin of bologna
after Bologna
Bologna
commune in Emilia-Romagna, NC Italy, at the foot of the Apennines
---
bologna
also ba·lo·ney or bo·lo·ney
noun
A large sausage of finely ground pork or other meat, usually served as a cold cut.
Origin of bologna
After
Bologna
Bologna
A city of north-central Italy at the foot of the Apennines north-northeast of Florence. It was originally an Etruscan town and became a Roman colony in the second century BC. Its famed university was founded as a law school in 1088.x
---
bologna

---