noun
A blouse is defined as a loose-fitting garment resembling a shirt that is usually worn by women, peasants or workers.

A long-sleeved, collared button-down shirt is an example of a blouse.
A loose-fitting cotton shirt worn by a worker in the fields on a farm that is belted at the waist is an example of a blouse.
verb
Blouse means to tug at or position a garment or article of clothing so it hangs in loose folds.

When you tug your dress out away from your body so that it hangs out loosely, this is an example of a time when you blouse the dress fabric.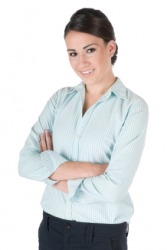 A young woman in a pale colored blouse.
---
blouse
noun
a loose, smocklike outer garment of varying length, traditionally worn by certain European peasants and workmen
a loose garment similar to a shirt, worn by women and children
the coat or jacket of a service uniform or dress uniform of the armed forces
a sailor's jumper
Origin of blouse
French (18th circa ) workman's smock ; from uncertain or unknown; perhaps
---
blouse
noun
A woman's or child's loosely fitting shirt that extends to the waist or slightly below. See Note at greasy.
A loosely fitting garment resembling a long shirt, worn especially by European workmen.
The service coat or tunic worn by the members of some branches of the US armed forces.
intr. & tr.v.
bloused
bloused
,
blous·ing
,
blous·es
To hang or cause to hang loosely and fully.
Origin of blouse
French, possibly alteration (influenced by
blousse
,
wool scraps
,
of Germanic origin
) of obsolete French
blaude
, from Old French
bliaut
, probably of Germanic origin .
---
blouse
Noun
(plural blouses)
An outer garment, usually loose, that is similar to a shirt and reaches from the neck to the waist or below. Nowadays, in colloquial use, blouse refers almost always to a woman's shirt that buttons down the front.
Verb
(third-person singular simple present blouses, present participle blousing, simple past and past participle bloused)
(military) To tuck one's pants/trousers (into one's boots).
Origin
1828, from French blouse ("a workman's or peasant's smock"), of obscure origin. Three theories include:
French blousse ("scraps of wool"), from Occitan lano blouso ("pure or short wool"), from blous, blos ("pure, empty, bare"), from Old High German blōz "naked, bare" (German bloss "bare")
A conflation of the aforementioned and French blaude, bliaud ("a kind of smock"), from Old French bliau, also from Frankish *blīfald ("topcoat of scarlet colour"), from blī- "coloured, bright" + -fald ("crease, fold"). More at blee, fold.
From Medieval Latin pelusia, from Pelusium, a city of Upper Egypt, a clothing manufacturer during the Middle Ages.
More at blee, fold.
---