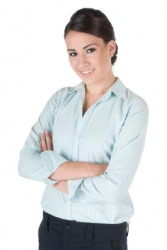 A young woman in a pale colored blouse.
noun
A blouse is defined as a loose-fitting garment resembling a shirt that is usually worn by women, peasants or workers.

A long-sleeved, collared button-down shirt is an example of a blouse.
A loose-fitting cotton shirt worn by a worker in the fields on a farm that is belted at the waist is an example of a blouse.
verb
Blouse means to position a garment so that it hangs loosely from the body.

When you lightly pull your dress up and out from above the belt or waistline, it will blouse the dress's fabric.
---
blouse
a loose, smocklike outer garment of varying length, traditionally worn by certain European peasants and workmen
a loose garment similar to a shirt, worn esp. by women
the coat or jacket of a service uniform or dress uniform of the armed forces
a sailor's jumper
Origin of blouse
Fr, (18th circa ) workman's smock from uncertain or unknown; perhaps
intransitive verb
transitive verb
bloused

,

blous′ing
to gather in and drape over loosely
---
blouse
noun
A woman's or child's loosely fitting shirt that extends to the waist or slightly below. greasy
A loosely fitting garment resembling a long shirt, worn especially by European workmen.
The service coat or tunic worn by the members of some branches of the US armed forces.
intr. & tr.v.
bloused, blous·ing, blous·es
To hang or cause to hang loosely and fully.
Origin of blouse
French
possibly alteration
(
influenced by
blousse
wool scraps
) (
of Germanic origin
)
of
obsolete French
blaude
from
Old French
bliaut
probably of Germanic origin
---
blouse

---