Babylon
[bab′ə län′, -lən]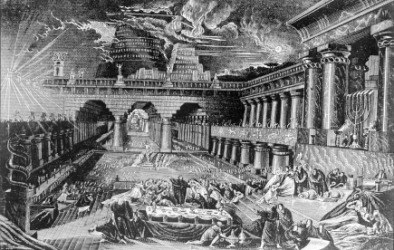 An engraving of the fall of Babylon.
---
Babylon
ancient city on the lower Euphrates River (in what is now central Iraq), the capital of Babylonia: noted for wealth, luxury, and wickedness
Origin of Babylon
Classical Latin ; from Classical Greek
Babylōn
; from Classical Hebrew (language)
bavel
: see
Babel
---
Babylon
The capital of ancient Babylonia in Mesopotamia on the Euphrates River. Established as capital c. 1750 BC and rebuilt in regal splendor by Nebuchadnezzar II after its destruction (c. 689 BC) by the Assyrians, Babylon was the site of the Hanging Gardens, one of the Seven Wonders of the World.
noun
A city or place of great luxury, sensuality, and often vice and corruption.
A place of captivity or exile.
---
Babylon
---