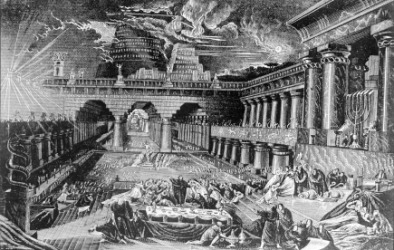 An engraving of the fall of Babylon.
---
Babylonian
adjective
of Babylon or its people, language, or culture
of Babylonia
luxurious, unrestrained, wicked, etc.
noun
a person born or living in Babylon or Babylonia
the variety of Akkadian spoken by the ancient Babylonians
---
Babylonian
adjective
Of or relating to Babylonia or Babylon or their people, culture, or language.
Characterized by a luxurious, pleasure-seeking, and often immoral way of life.
noun
A native or inhabitant of Babylon or Babylonia.
The form of Akkadian used in Babylonia.
---