noun
The definition of amber is a fossil resin that is yellow, orange, red, or brown in hue, or refers to a specific color that is considered to look like this resin.

An example of amber is the material in which a moth was preserved in the movie Jurassic Park.
An example of something that is amber colored is honey.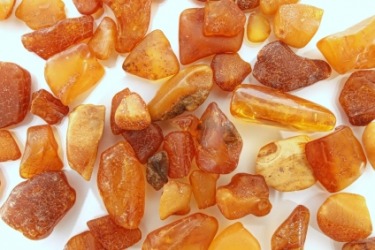 Several pieces of amber.
---
amber definition by Webster's New World
noun
a yellow or brownish-yellow translucent fossil resin found as along seacoasts and used in jewelry, pipestems, etc.: it is hard, easily polished, and quickly charged with static electricity when rubbed
the color of amber
Origin: Middle English aumbre, amber, ambergris ; from Old French ambre ; from Arabic 'anbar, ambergris
adjective
like or made of amber
having the color of amber
Webster's New World College Dictionary Copyright © 2010 by Wiley Publishing, Inc., Cleveland, Ohio. Used by arrangement with John Wiley & Sons, Inc.
---
amber definition by American Heritage Dictionary
noun
A hard translucent yellow, orange, or brownish-yellow fossil resin, used for making jewelry and other ornamental objects.
A brownish yellow.
adjective
Having the color of amber; brownish-yellow.
Made of or resembling amber: an amber necklace.
Origin: Middle English ambre, from Old French, from Medieval Latin ambra, ambar, from Arabic 'anbar, ambergris, amber.
The American Heritage® Dictionary of the English Language, 4th edition Copyright © 2010 by Houghton Mifflin Harcourt Publishing Company. Published by Houghton Mifflin Harcourt Publishing Company. All rights reserved.
---
amber - Science Definition
A hard, translucent, brownish-yellow substance that is the fossilized resin of ancient trees. It often contains fossil insects.
A Closer Look
Certain trees, especially conifers, produce a sticky substance called
resin
to protect themselves against insects. Normally, it decays in oxygen through the action of bacteria. However, if the resin happens to fall into wet mud or sand containing little oxygen, it can harden and eventually fossilize, becoming the yellowish, translucent substance known as
amber.
If any insects or other organisms are trapped in the resin before it hardens, they can be preserved, often in exquisite detail. By studying these preserved organisms, scientists are able learn key facts about life on Earth millions of years ago.