amber

am·ber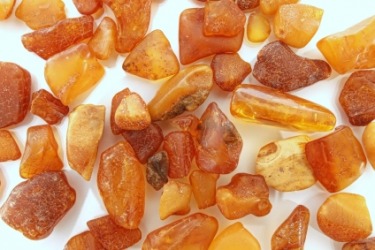 Several pieces of amber.
noun
The definition of amber is a fossil resin that is yellow, orange, red, or brown in hue, or refers to a specific color that is considered to look like this resin.

An example of amber is the material in which a moth was preserved in the movie Jurassic Park.
An example of something that is amber colored is honey.
---
amber
a yellow or brownish-yellow translucent fossil resin found as along seacoasts and used in jewelry, pipestems, etc.: it is hard, easily polished, and quickly charged with static electricity when rubbed
the color of amber
Origin of amber
Middle English
aumbre
, amber, ambergris from Old French
ambre
from Arabic ?
anbar
, ambergris
like or made of amber
having the color of amber
---
amber
noun
A hard, translucent, usually brownish-yellow fossil resin, used for making jewelry and other ornamental objects.
A brownish yellow.
adjective
Having the color of amber; brownish-yellow.
Made of or resembling amber: an amber necklace.
Origin of amber
Middle English
ambre
from
Old French
from
Medieval Latin
ambra, ambar
from
Arabic
'anbar
ambergris, amber
amber
polished amber pendant
---
amber

Noun
(countable and uncountable, plural ambers)
1579, The Booke of Simples, fol. 56 (contained in Bulleins Bulwarke of Defence against all Sicknesse, Soarnesse, and Woundes):

As for Amber Grice, or Amber Cane, which ist most sweet myngled with other sweete thynges: some say it commeth from the rocks of the Sea. […] Some say it is gotten by a fish called Azelum, which feedeth upon Amber Grece, and dyeth, which is taken by cunnyng fishers and the belly opened, and this precious Amber found in hym.

1600, John Pory (translat), A Geographical Historie of Africa (original by Leo Africanus), page 344:

The head of this fish is as hard as stone. The inhabitants of the Ocean sea coast affirme that this fish casteth foorth Amber; but whether the said Amber be the sperma or the excrement thereof, they cannot well determine.

1717, Lady Mary Wortley Montagu, letter, 18 Apr 1717:

Slaves […] with silver Censors […] perfum'd the air with Amber, Aloes wood, and other Scents.

A hard, generally yellow to brown translucent fossil resin, used for jewellery. One variety, blue amber, appears blue rather than yellow under direct sunlight. [from 15th c.]
A brownish yellow colour.

(UK) The intermediate light in a set of three traffic lights, the illumination of which indicates that drivers should stop short of the intersection if it is safe to do so.
(biology, genetics, biochemistry) The stop codon (nucleotide triplet) "UAG", or a mutant which has this stop codon at a premature place in its DNA sequence.

an amber codon, an amber mutation, an amber suppressor
Adjective
(comparative more amber, superlative most amber)
Of a brownish yellow colour, like that of most amber.
Verb
(third-person singular simple present ambers, present participle ambering, simple past and past participle ambered)
(rare) To perfume or flavour with ambergris.

ambered wine, an ambered room

(rare) To preserve in amber.

an ambered fly

(rare, chiefly poetic or literary) To cause to take on the yellow colour of amber.
(intransitive, rare, chiefly poetic or literary) To take on the yellow colour of amber.
Origin
From Middle French ambre, from Arabic عنبر (ʿanbar, "ambergris"), from Middle Persian ʾmbl (ambar, "ambergris"). Compare lamber, ambergris.
The nucleotide sequence "UAG" is named "amber" for the first person to isolate the amber mutation, California Institute of Technology graduate student Harris Bernstein, whose last name ("Bernstein") is the German word for the resin "amber".
Proper noun
A female given name, popular in the 1980s and the 1990s.
A surname​ of uncertain origin.
Origin
From amber, from Middle English ambre, from Old French ambre, from Latin ambar, from Arabic عنبر (anbar, "amber")
Proper noun
A female given name.
A ruined city in Rajasthan, India.
Origin
From a form of the Hindi आसमान (āsmān, "the heavens").
---