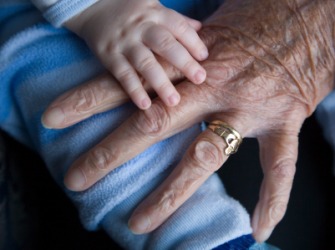 Aging is the process of growing older.
verb
The definition of aging refers to the process of getting older, or an artificial process to make someone or something look older.

An example of aging is when you start to grow gray hair, need eyeglasses and be more forgetfully as you get older.
An example of aging is to apply dents and scratches to make a piece of furniture appear older.
---
aging
noun
The process of growing old or maturing.
An artificial process for imparting the characteristics and properties of age.
---
aging

Verb
Present participle of age.
Noun
(plural agings) (US)
(intransitive) The process of becoming older or more mature.
Allowing something to become older.

The owner asked the clerk to age some big bills that were due.

The deliberate act of making something (such as an antique) appear older than it is.
(gerontology) Becoming senescent; accumulating damage to macromolecules, cells, tissues and organs with the passage of time
(euphemistic) Elderly person. Only as a collective plural in "the aging"
Adjective
(comparative more aging, superlative most aging)
Becoming elderly.

The aging artist could no longer steadily hold the brush.
Usage notes
Comparative and superlative forms are rare.
---