admission

ad·mis·sion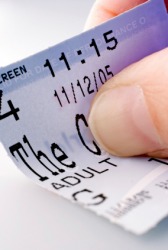 This ticket provides admission to a movie.
noun
The definition of admission is the permission to enter something or somewhere.

A ticket for a movie is an example of admission.
---
admission
an admitting or being admitted; entrance
the right to enter; access
a fee paid for the right to enter; entrance fee
a conceding, or granting of the truth, of something
an acknowledging of, or confessing to, some crime, fault, etc.
a thing conceded, acknowledged, or confessed
Origin of admission
Middle English from Classical Latin
admissio
from
admissus
, past participle of
admittere
, admit
---
admission
noun
a. The act of admitting or allowing to enter: The admission of new students occurs in the spring.

b. The right to enter or be accepted: The ticket grants admission to the show.

c. The price required or paid for entering; an entrance fee.

d. The people admitted, as to an institution: Hospital admissions rose last month.

a. A disclosure or confession, as of having made a mistake or done something wrong.

b. A voluntary acknowledgment of a fact or truth; a concession: By his own admission the project was underfunded.

c. Law A statement against one's personal interests that can be used as evidence in a law case.
Origin of admission
Middle English
from
Latin
admissiō
admissiōn-
from
admissus
past participle of
admittere
to admit
; see
admit
.
Related Forms:
---
admission

Noun
(plural admissions)
The act or practice of admitting.
Power or permission to enter; admittance; entrance; access; power to approach.
The granting of an argument or position not fully proved; the act of acknowledging something asserted; acknowledgment; concession.
(law) Acquiescence or concurrence in a statement made by another, and distinguishable from a confession in that an admission presupposes prior inquiry by another, but a confession may be made without such inquiry.
A fact, point, or statement admitted; as, admission made out of court are received in evidence
(UK, ecclesiastical law) Declaration of the bishop that he approves of the presentee as a fit person to serve the cure of the church to which he is presented.
The cost or fee associated with attendance or entry.

There is no way he has seen that show, the admission is more than he makes in a week.
---
admission - Legal Definition
n
Any act, assertion, or statement made by a party to an action that is offered as evidence against that party by the opponent.
A defendant's failure to deny, or his voluntary acknowledgment of the truth, of an allegation in a complaint, counterclaim, or request for admissions.
The acceptance by a judge of evidence for consideration by himself or the jury when determining the merits of the action.
The granting or obtaining of a license from a state or an established licensing authority, such as a state bar association, or permission from a court, to practice law in that state or before that court. See also admission pro hoc vice.
---