deposition

dep·o·si·tion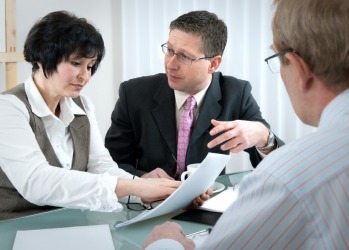 A deposition is given before a case goes to court.
noun
Deposition is defined as the removal from an office or the testimony of a witness under oath.

An example of deposition is the firing of a person from a government job.
An example of deposition is to tell the details of the crime to an attorney before the case goes to court.
---
deposition
a deposing or being deposed; removal from office or position of power
the act of testifying
a depositing or being deposited
something deposited or left lying

Law

the testimony of a witness made under oath, but not in open court, and written down to be used when the case comes to trial
Origin of deposition
Middle English and Old French from Classical Latin
depositio
, a laying or putting down from Classical Latin
depositus
: see deposit
---
deposition
noun
The act of deposing, as from high office.
The act of depositing, especially the laying down of matter by a natural process.
Something deposited; a deposit.
Law Sworn testimony recorded for use in court at a later date.
Deposition The removal of Jesus from the cross.
Related Forms:
dep′o·si′tion·al

adjective
---
deposition

Noun
(plural depositions)
Origin
From Old French deposicion (French déposition)
---
deposition - Legal Definition
n
In litigation, a proceeding outside the courtroom in which a party or witness gives sworn testimony under oath before a court reporter, who then creates a written document; the written document created as a result of such a proceeding.
deposition de bene esse
The deposition of a witness who is unlikely to be available to appear at the trial.
deposition of corporate designee
. The deposition of a person representing a corporation or entity, in which that person is held out to have the most knowledge of the subject at hand. Testimony taken in this manner is binding upon the corporation or entity. 
---