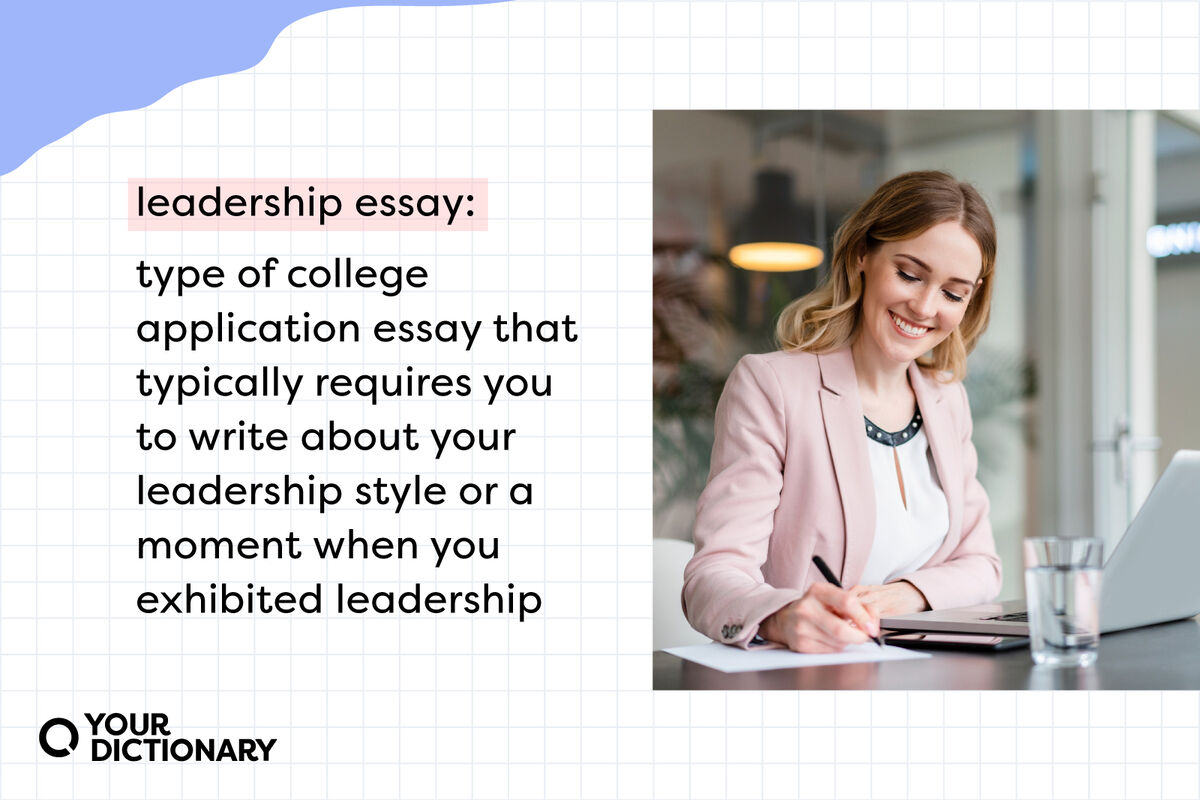 Whether you've led a horse to water or led your team to a victorious championship, you're probably more of a leader than you give yourself credit for. It turns out, college admissions officers want to hear about that horse and/or championship in your application essay. The leadership essay is one of the hallmarks of college essays, but what's the right way to do it?
What Is a Leadership Essay?
A leadership essay is a subset of college application essays that help college admissions officers understand your previous experiences as a leader. While that might seem extremely specific, it comes with the understanding that leadership looks and feels different based on the person and situation.
To give you a real world example: The president is ostensibly the leader of the United States. However, the president has a whole cabinet of other leaders for every other aspect of running a country. You might not be a leader of foreign policy, but you might be a leader on the football field or within your community volunteer group.
Leadership Essay Ideas and Topics
While you might see a few variations, almost all leadership essays go back to two main forms:
What is your leadership style?
Describe a moment when you showed leadership.
There's inherently a bit of overlap with both of these. You'll likely give an example of a leadership moment when talking about your leadership style, and you'll probably talk about your leadership style when talking about a leadership moment.
In either case, the school will want you to use anecdotal evidence that demonstrates the idea. Go with what feels right, whether that's leading a club or team in school or leading some ducklings across a busy highway. Even if your experience sounds cliché, it's unique because it involves you.
How To Write a Leadership Essay
Probably the biggest trap that people fall into is "Well, I've never been a leader." Even if you've never held some sort of leadership position at school or had an official title, chances are pretty high that you have exhibited some form of leadership at some point in your life. Beyond that, the actual writing of the leadership essay is fairly straightforward.
Formatting Your Leadership Essay
Your leadership essay will include an introduction paragraph, one or more body paragraphs, and a conclusion. Depending on the word or page limits, you can almost treat this like a five-paragraph essay.
Introduction - Capture the reader's interest, define good leadership in relation to you, and directly address the given prompt
Body paragraphs - Give some background information using anecdotes to describe your leadership style or moment
Conclusion - End with a compelling statement about your leadership qualities and how you hope to apply them to your education, career, and the world in general
How Long Should a Leadership Essay Be?
The length of the leadership essay depends on what the college or application system says. Thankfully, this is the one part of the essay that you don't need to question. Nearly every school will provide a word limit, typically ranging from 250 words (for supplemental essays) potentially all the way up to 1,000 words.
In the rare event that you don't see an obvious word limit, stick to a maximum of about 500 to 600 words.
Tips for Writing a Leadership Essay
Unfortunately, we don't know your personal life, and we certainly don't know moments where you exhibited leadership. So we can't write your essay for you, but we can give you some tips to at least guide your writing process.
Define Good Leadership Before You Start
Before you begin writing your essay, think about what qualities make someone a good leader, at least in your opinion. What great leadership qualities do you have? What makes a "good leader"? Make a list before you begin writing your essay. 
Leadership qualities can include:
The ability to motivate others
Personal integrity
Courage
Placing a value on relationships with team members
Prioritizing the larger good over any individual
Review your list and choose the qualities you want to highlight. Write your own definition of what makes someone a great leader as it relates to the quality you chose. It should be one or two sentences long. Use that definition as the backbone of your essay.
Tell a Story About Your Leadership
It's time to turn that list of potential leadership qualities into something meaningful and interesting. The best way to do that is with an engaging narrative.
You should obviously state good leadership qualities, but that shouldn't be your entire essay. Tell a story about your leadership.
Did you face a specific challenge?
How did you overcome that challenge?
How has your leadership style changed over the years?
Was there a specific moment or experience that caused that change?
Really ask yourself questions and dig into the concept of leadership as a real thing that has had real effects on your life.
Write With Your Own Voice and Style
Although you shouldn't be super informal in college application essays, they are also designed to help you display your own voice and personality. College admissions officers want to learn about you, and your writing style is inherently a big part of that, whether that means using humor or puns, maintaining a unique level of sincerity throughout the essay, or being invitingly verbose.
Don't Be Down On Yourself
Whether it's your personal statement, a supplemental essay, or this leadership essay, avoid being too down on yourself. Admissions officers want to hear about all your successes, trophies, and kittens saved from trees. They really don't want to read a whole essay about you saying you're a bad leader.
Humility is definitely an important leadership trait, but there's a fine line between being humble and being hurtful to yourself. Even if you're normally prone to some self-deprecation, try to keep it at a minimum for this essay.
If you're not sure where to start, take some time to brainstorm ideas. Even the weirdest idea can blossom into something neat. If you need inspiration, one of the best things is to look at other examples of leadership. That could be from your favorite show, a good nonfiction book about sailors, or the essay below.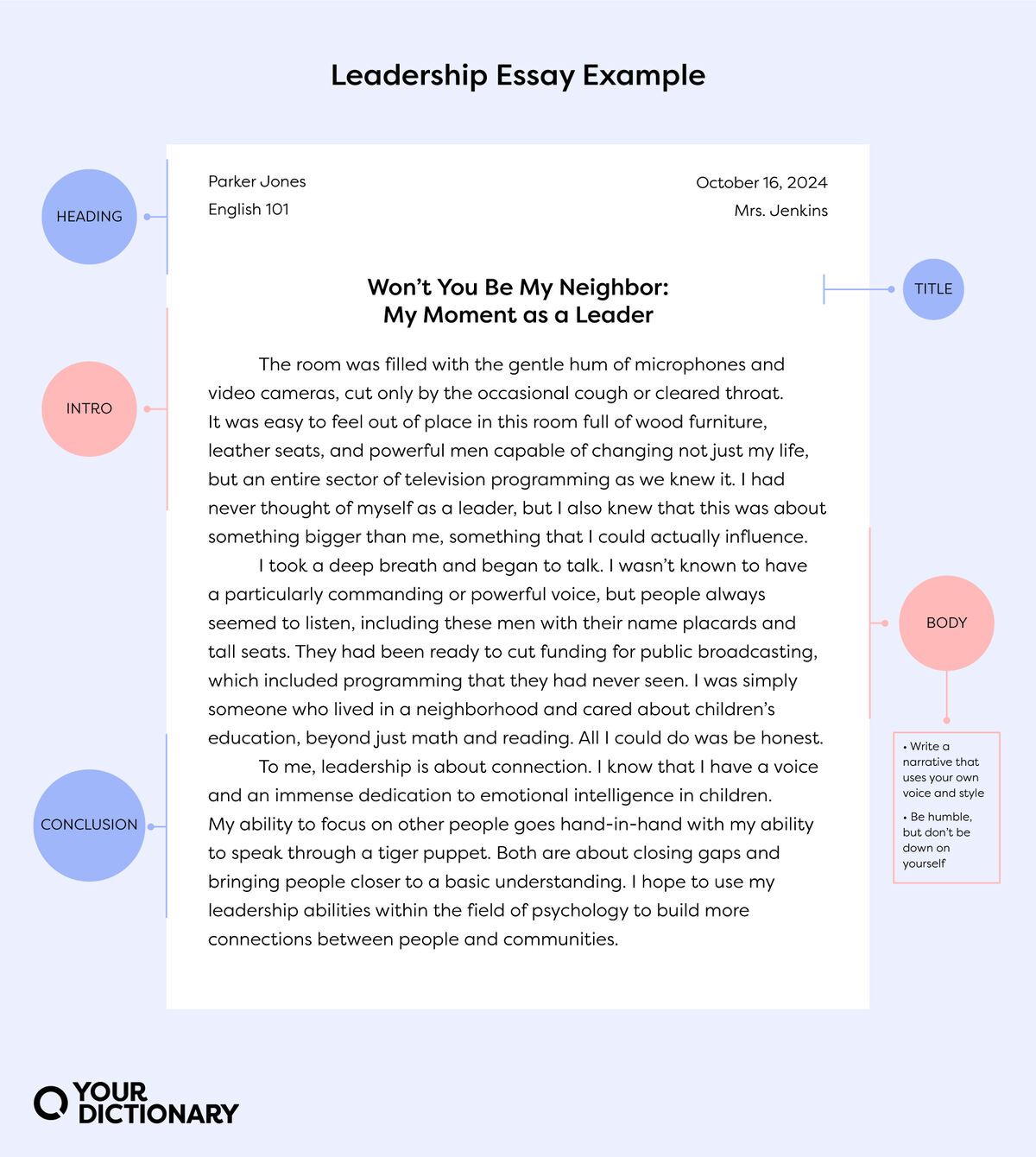 Leadership Essay Introduction Example
The introduction should pull the reader in while directly answering the prompt. When in doubt, try to start with something concrete over something abstract. Or as writers and writing teachers like to say: Show, don't tell.
The room was filled with the gentle hum of microphones and video cameras, cut only by the occasional cough or cleared throat. It was easy to feel out of place in this room full of wood furniture, leather seats, and powerful men capable of changing not just my life, but an entire sector of television programming as we knew it. I had never thought of myself as a leader, but I also knew that this was about something bigger than me, something that I could actually influence.
Leadership Essay Body Example
The body is where you'll get more into the details of your narrative and connect it to ideas of leadership. Try not to get too hung up on the exact wording of what makes a leader. That can get far too abstract. Let your story speak for you.
I took a deep breath and began to talk. I wasn't known to have a particularly commanding or powerful voice, but people always seemed to listen, including these men with their name placards and tall seats. They had been ready to cut funding for public broadcasting, which included programming that they had never seen. I was simply someone who lived in a neighborhood and cared about children's education, beyond just math and reading. All I could do was be honest.
Leadership Essay Conclusion Example
Your conclusion considers the broader effects of your leadership. How might your leadership evolve or change? How can you apply that leadership to your education, job, or community?
To me, leadership is about connection. I know that I have a voice and an immense dedication to emotional intelligence in children. My ability to focus on other people goes hand-in-hand with my ability to speak through a tiger puppet. Both are about closing gaps and bringing people closer to a basic understanding. I hope to use my leadership abilities within the field of psychology to build more connections between people and communities.