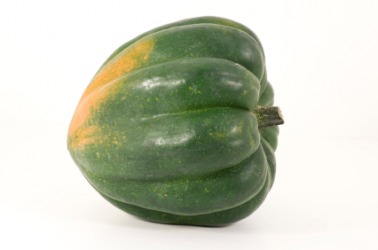 A variety of squash named for its acorn like shape.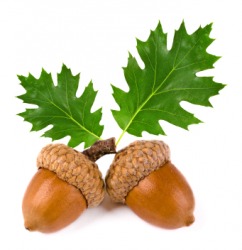 Two acorn nuts with oak leaves.
noun
The definition of an acorn is a round nut with a wood-like cap that comes from an oak tree.

An example of an acorn is a nut that a squirrel eats once it has fallen from the oak tree.
---
acorn
the fruit of the oak tree; an oak nut
Origin of acorn
Middle English
akorn
from Old English
æcern
, nut, mast of trees; akin to Gothic
akran
, Old Norse
akarn
from Indo-European base an unverified form
?g-
, to grow, fruit: form influenced, influence by associated, association with Old English
ac
, oak +
corn
, grain
---
acorn
noun
The fruit of an oak, consisting of a single-seeded, thick-walled nut set in a woody, cuplike base.
Origin of acorn
Middle English
akorn
from
Old English
æcern
Word History:
A thoughtful glance at the word
acorn
might produce the surmise that it is made up of
oak
(from Old English
āc
) and
corn,
especially if we think of
corn
in its sense of "a kernel or seed of a plant," as in
peppercorn.
The fact that others thought the word was so constituted partly accounts for the present form
acorn.
Here we see the workings of the process of linguistic change known as folk etymology, an alteration in form of a word or phrase so that it resembles a more familiar term mistakenly regarded as analogous.
Acorn
actually goes back to Old English
æcern,
"acorn," which in turn goes back to the Indo-European root
*ōg-,
meaning "fruit, berry."
---
acorn

Noun
(plural acorns)
(nautical) A cone-shaped piece of wood on the point of the spindle above the vane, on the mast-head.
(zoology) See acorn-shell.
Origin
Middle English acorne, an alteration (after corn) of earlier akern, from Old English æcern ("acorn, oak-mast"), from Proto-Germanic *akraną, from Proto-Indo-European *h₂ógeh₂- ("berry"). Cognate with Saterland Frisian Äkkene, Flemish aker, Danish agern; and with Irish áirne ("sloe"), Lithuanian úoga, Russian ягода (jágoda, "berry").
---