abroad

a·broad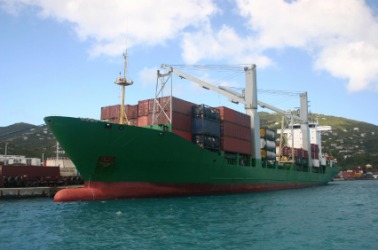 This ship carries goods made abroad.
adverb
Abroad is defined as something done in any country or countries that are not your own.

An example of goods made abroad for the US customer are goods made in China.
noun
The definition of abroad is a country or countries which are not your home country.

For a person who lives in the US, visiting England is example of going abroad.
---
abroad
broadly; far and wide
in circulation; current: a report is abroad that he has won
outside one's house; outdoors: to stroll abroad
outside one's own country; to or in foreign countries; specif., to or in another continent; overseas
wide of the mark; in error
Origin of abroad
Middle English
abrode
from
on brod
: see on and broad
from abroad
from a foreign land or lands, specif. a land or lands overseas
---
abroad
adverb
adjective
Out of one's own country.
In a foreign country or countries.
Away from one's home.
In circulation; at large.
Covering a large area; widely: "An epidemic is abroad in America" ( Richard M. Smith )
Archaic Not on target; in error.
noun
A foreign country or countries in which to live or travel: "Do you like abroad or hate it?" ( John le Carré )
Origin of abroad
Middle English
abrod
a-
in, on
; see
a-
2
.
brod
broad
; see
broad
.
---
abroad

Adverb
(comparative more abroad, superlative most abroad)
(dated) At large; widely; broadly; over a wide space. [First attested from around (1150 to 1350.)]

A tree spreads its branches abroad.

​(dated) Without a certain confine; outside the house; away from one's abode. [First attested from around (1150 to 1350.)]

to walk abroad

p. 1650, John Evelyn, William Bray (edit), Diary, Frederic Warne and Company (publisher, 1818), page 207, entry for 1650 July 7:

I went to St. James', where another was preaching in the court abroad.

1900, Charles W. Chesnutt, The House Behind the Cedars, Chapter I:

Was it so irreconcilable, Warwick wondered, as still to peal out the curfew bell, which at nine o'clock at night had clamorously warned all negroes, slave or free, that it was unlawful for them to be abroad after that hour, under penalty of imprisonment or whipping?

Beyond the bounds of a country; in foreign countries. [First attested from around (1350 to 1470.)]
(dated) Before the public at large; throughout society or the world; here and there; moving without restriction. [First attested in the late 15th century.]
Played elsewhere than one's home grounds; as in a sport's team.
Noun
(rare) Countries or lands abroad. [First attested in the mid 19th century.]
---