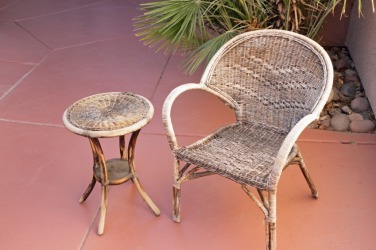 Outdoor furniture showing the effects of weathering.
verb
Weathering is defined as coping with the effects of changes in climate, environmental conditions or difficult situations.

When your outdoor furniture begins to get rusty and old because of climate change, this is an example of a time when the furniture is weathering.
When you make it through a difficult time, this is an example of a time when you might be said to be weathering the storm.
---
weathering
Archit.

a slope built to shed water

Geol.

the destructive physical and chemical effects of the forces of weather on rock surfaces, as in forming soil or sand
---
weathering
noun
Any of the chemical or mechanical processes by which objects exposed to the weather are worn or broken down.
weathering
arch rock formation in the Ennedi Massif, Chad
---
weathering

Noun
(countable and uncountable, plural weatherings)
(geology) Mechanical or chemical breaking down of rocks in situ by weather or other causes.
(architecture) A slight inclination given to an approximately horizontal surface to enable it to throw off water.
Verb
Present participle of weather.
Origin
From Middle English wederyng, equivalent to weather +"Ž -ing.
---