waterfall

wa·ter·fall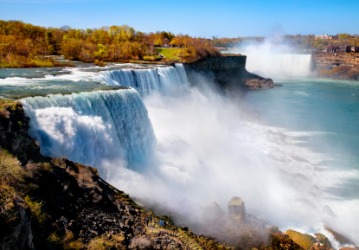 Niagara Falls is a famous waterfall.
noun
The definition of a waterfall is a steep cliff or incline down which water cascades.

Niagara Falls is an example of a waterfall.
---
waterfall
a steep fall of water, as of a stream, from a height; cascade
---
waterfall
noun
A steep descent of water from a height; a cascade.
---
waterfall

Noun
(plural waterfalls)
(figuratively) A waterfall-like outpouring of liquid, smoke, etc.
(technical, computing, slang) Waterfall model
Verb
(third-person singular simple present waterfalls, present participle waterfalling, simple past and past participle waterfalled)
(intransitive) To fall like a waterfall.
---