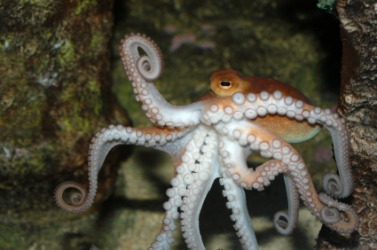 The tentacles of an octopus.
noun
The definition of a tentacle is a flexible arm used to touch and grab things, or the sensitive hairs on a plant leaf.

An example of a tentacle is one of the eight arms of an octopus.
---
tentacle
any of a variety of long, slender, flexible growths, as about the head or mouth of some invertebrate animals, used variously for grasping, feeling, moving, etc.

Bot.

any of various sensitive hairs on the leaves of some plants, as those used in capturing insects
Origin of tentacle
Modern Latin
tentaculum
from Classical Latin
tentare,
to touch: see tent
---
tentacle
noun
Zoology

a. An elongated flexible unsegmented extension, as one of those surrounding the mouth of a sea anemone, used for feeling, grasping, or locomotion.

b. One of these structures in a cephalopod, typically being retractile and having a clublike end usually with suckers or hooks, in contrast to an arm, which is nonretractile and typically has suckers along the underside.

Botany One of the sensitive hairs on the leaves of certain insectivorous plants, such as a sundew.
A similar part or extension, especially with respect to the ability to grasp or stretch: an espionage network with far-reaching tentacles.
Origin of tentacle
New Latin
tentāculum
from
Latin
tentāre
to feel, try
; see
tentative
.
Related Forms:
---
tentacle

---