noun
The definition of a scribe is a person who copies manuscripts or a pointed instrument used for marking where something should be cut.

An example of a scribe is the person who would have made copies of the Bible before the invention of the printing press.
An example of scribe is what someone would use to mark a piece of wood showing where it is to be cut.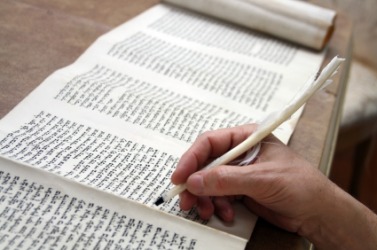 A scribe writing in a scroll.
---
scribe
noun
a professional penman who copied manuscripts before the invention of printing
a writer or author
a person learned in the Jewish law who makes handwritten copies of the Torah
a person employed by the general public to write letters, etc.
a pointed instrument for scoring stone, brick, wood, etc. to show where it is to be cut
Origin of scribe
Middle English ; from Classical Latin
scriba
, public writer, scribe, in Ecclesiastical Late Latin doctor of the Jewish law ; from
scribere
, to write ; from Indo-European an unverified form
skeribh-
; from base an unverified form
(s)ker-
, to cut, incise from source shear
transitive verb
scribed, scribing
to score (wood, bricks, etc.) with a scribe
to mark (a line) with a scribe
intransitive verb
to work as a scribe
Scribe, Augustin Eugène 1791-1861; Fr. dramatist & librettist
---
scribe
noun
A public clerk or secretary, especially in ancient times.
A professional copyist of manuscripts and documents.
A writer or journalist.
See scriber.
verb
scribed
scribed
,
scrib·ing
,
scribes
verb
, transitive
To mark with a scriber.
To write or inscribe.
verb
, intransitive
To work as a scribe.
Origin of scribe
Middle English, from Old French, from Late Latin
scrība
, from Latin,
keeper of accounts, secretary
, from
scrībere
,
to write
; see
skrībh-
in Indo-European roots.
Related Forms:
---
scribe
---