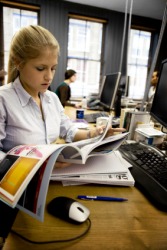 A junior editor at a magazine publishing office.
noun
The definition of an editor is a person who prepares a final copy of something by taking out extra words and fixing errors.

An example of an editor is the head of a newspaper.
---
editor
a person who edits; often, specif., one whose work is procuring and editing manuscripts
the head of a department of a newspaper, magazine, etc.
a device for editing film, videotape, etc. as by viewing, cutting, and splicing
Origin of editor
Classical Latin from
editus
, past participle of
edere
, to give out, publish from
e-
, out +
dare
, to give: see date
---
editor
noun
One who edits, especially as an occupation.
One who writes editorials.
A device for editing film, consisting basically of a splicer and viewer.
Computers A program used to edit text or data files.
Origin of editor
Late Latin
ēditor
publisher
from
Latin
ēditus
past participle of
ēdere
to publish
; see
edit
.
---
editor

Noun
(plural editors)
A copy editor.
A person who edited a specific document.
A person at a newspaper or similar institution who edits stories and decides which ones to publish.
A machine used for editing (cutting and splicing) movie film
(television, cinematography) Someone who manipulates video footage and assembles it into the correct order etc for broadcast; a picture editor.
Origin
From Medieval Latin ēditor, from Late Latin ēditor , from ēditus, perfect passive participle of ēdō ("to give out, put forth, publish").
---
editor - Computer Definition
---