noun
The definition of an editor is a person who prepares a final copy of something by taking out extra words and fixing errors.

An example of an editor is the head of a newspaper.
YourDictionary definition and usage example. Copyright © 2013 by LoveToKnow Corp.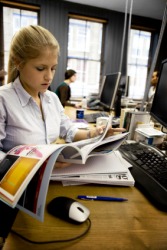 A junior editor at a magazine publishing office.
Licensed from iStockPhoto
---
noun
a person who edits; often, specif., one whose work is procuring and editing manuscripts
☆ the head of a department of a newspaper, magazine, etc.
☆ a device for editing film, videotape, etc. as by viewing, cutting, and splicing
Origin: Classical Latin ; from editus, past participle of edere, to give out, publish ; from e-, out plush dare, to give: see date
Webster's New World College Dictionary
Copyright © 2010 by Wiley Publishing, Inc., Cleveland, Ohio.
Used by arrangement with John Wiley & Sons, Inc.
---
noun
One who edits, especially as an occupation.
One who writes editorials.
A device for editing film, consisting basically of a splicer and viewer.
Computer Science A program used to edit text or data files.
Origin: Late Latin ēditor, publisher, from Latin ēditus, past participle of ēdere, to publish; see edit.
The American Heritage® Dictionary of the English Language
, 4th edition Copyright © 2010 by Houghton Mifflin Harcourt Publishing Company. Published by Houghton Mifflin Harcourt Publishing Company. All rights reserved.
---
editor - Computer Definition
Computer Desktop Encyclopedia
THIS DEFINITION IS FOR PERSONAL USE ONLY
All other reproduction is strictly prohibited without permission from the publisher.
© 1981-2014 The Computer Language Company Inc. All rights reserved.