noun
The definition of a schlep is an unproductive person.

An example of a schlep is a person who never works.
verb
Schlep is defined as to drag, carry or go with a lot of effort needed.

An example of schlep is to lug a heavy piece of furniture up the stairs.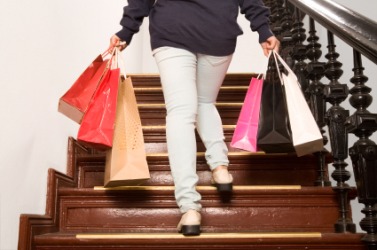 A woman schleps bags up the stairs.
---
schlep definition by Webster's New World
☆ or schlepp
transitive verb
schlepped, schlepping
to carry, take, haul, drag, etc.
Origin: ; from Yiddish shlepn, drag ; from Middle High German dialect, dialectal sleppen ; from Low German slepen ; from Indo-European base an unverified form (s)leub- from source slip
intransitive verb
to go or move with effort; drag oneself
noun
an ineffectual person
Webster's New World College Dictionary Copyright © 2010 by Wiley Publishing, Inc., Cleveland, Ohio. Used by arrangement with John Wiley & Sons, Inc.
---
schlep definition by American Heritage Dictionary
or schlepp also shlep Slang
verb
schlepped
schlepped
also
shlepped
,
schlep·ping
or
schlepp·ing
also
shlep·ping
,
schleps
or
schlepps
also
shleps
verb
, transitive
To carry clumsily or with difficulty; lug: schlepped a shopping bag around town.
verb
, intransitive
To move slowly or laboriously: schlepped around with the twins in a stroller.
noun
An arduous journey.
A clumsy or stupid person.
Origin: Yiddish shlepn, to drag, pull, from Middle Low German slēpen; see lei- in Indo-European roots.
Related Forms:
schlepˈper, schleppˈer, shlepˈper

noun