salad

sal·ad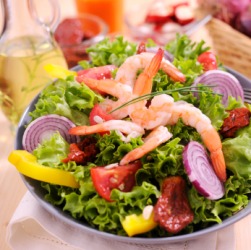 A large shrimp salad.
noun
The definition of a salad is a prepared dish usually with a mix of lettuce and other raw or cooked vegetables and topped with a dressing.

An example of a salad is butter lettuce chopped with tomatoes, onions and an Italian dressing.
An example of a salad is chopped chicken, mayonnaise, onions and seasonings served on lettuce or as a spread for a sandwich; chicken salad.
---
salad
a dish, usually cold, of raw or sometimes cooked vegetables or fruits in various combinations, served with a dressing, or molded in gelatin, and sometimes with seafood, poultry, eggs, etc. added

any green plant or herb used for such a dish or eaten raw

Dial.

lettuce

a finely chopped or ground food mixed with mayonnaise, seasonings, etc. and served as on lettuce or in a sandwich: tuna salad, egg salad sandwich
Origin of salad
Middle English
salat
from Middle French
salade
from Provençal
salada
from Vulgar Latin an unverified form
salata
from feminine past participle of an unverified form
salare
, to salt from Classical Latin
sal
, salt
---
salad
noun
a. A dish of raw leafy green vegetables, often tossed with pieces of other raw or cooked vegetables, fruit, cheese, or other ingredients and served with a dressing.

b. The course of a meal consisting of this dish.

A cold dish of chopped vegetables, fruit, meat, fish, eggs, or other food, usually prepared with a dressing, such as mayonnaise.
A green vegetable or herb used in salad, especially lettuce.
A varied mixture: "The Declaration of Independence was … a salad of illusions" ( George Santayana )
Origin of salad
Middle English
salade
from
Old French
possibly from
Old Provençal
salada
from
Vulgar Latin
salāta
from feminine past participle of
*salāre
to salt
from
Latin
sāl
salt
; see
sal-
in Indo-European roots.
Word History:
Salt was and is such an important ingredient in salad dressings that the very word
salad
is based on the Latin word for "salt." Vulgar Latin had a verb
*salāre,
"to salt," from Latin
sāl,
"salt," and the past participle form of this verb,
*salāta,
"having been salted," came to mean "salad." The Vulgar Latin word passed into languages descending from it, such as Portuguese (
salada
) and Old Provençal (
salada
). Old French may have borrowed its word
salade
from Old Provençal. Medieval Latin also carried on the Vulgar Latin word in the form
salāta.
As in the case of so many culinary delights, the English borrowed the word and probably the dish from the French. The Middle English word
salade,
from Old French
salade
and Medieval Latin
salāta,
is first recorded in a cookbook composed before 1399. • Salt is of course an important ingredient of other foods and condiments besides salad dressings, as is evidenced by some other culinary word histories. The words
sauce
and
salsa,
borrowed into English from French and Spanish, respectively, both come ultimately from the Latin word
salsus,
meaning "salted." Another derivative of this word was the Late Latin adjective
salsīcius,
"prepared by salting," which eventually gave us the word
sausage.
---
salad

Noun
(countable and uncountable, plural salads)
A food made primarily of a mixture of raw or cold ingredients, typically vegetables, usually served with a dressing such as vinegar or mayonnaise.

Boys, I may not know much but I know the difference between chicken shit and chicken salad.

A raw vegetable of the kind used in salads.
---