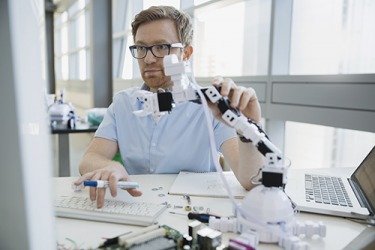 Aaron works in robotics designing innovative devices for a state-of-the-art tech company.
noun
Robotics is the science of designing, creating and using robots.

An example of robotics is the creation of a new robot that can clean up the house.
---
robotics
the science or technology of robots, including their design, manufacture, use, etc.
Origin of robotics
robot + -ics: coinage attributed to I. Asimov
---
robotics
noun
used with a sing. verb
The science or study of the technology associated with the design, fabrication, theory, and application of robots.
---
robotics

Origin
Coined by Isaac Asimov from robot + -ics by comparison to "physics ... hydraulics, celestial mechanics, and so on" in his 1941 book Liar!.
---
robotics - Computer Definition
---