repellent

re·pel·lent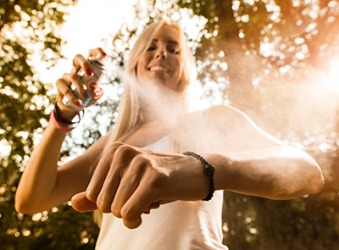 Tammie applies bug repellent to prevent mosquitoes from biting her when she goes for a hike on the trail.
adjective
The definition of repellent is causing to be kept away.

An example of something repellent is a disgusting odor.
noun
Repellent is defined as something that keeps away or prevents.

An example of a repellent is a bug spray.
---
repellent
that repels; pushing away or driving back

causing distaste, dislike, or aversion; repulsive
causing insects, etc. to react by staying away

able to resist the absorption of liquid, esp. water, to a limited extent: a water-repellent raincoat
Origin of repellent
Classical Latin
repellens
something that repels; specif.,
a solution applied to fabric to make it water-repellent
any substance used to repel insects
---
repellent
also re·pel·lant
adjective
Resistant or impervious to a substance. Often used in combination: a water-repellent fabric.
Serving or tending to repel something, especially insects: a repellent spray.
noun
Something that repels, especially:
a. A substance used to repel insects.
b. A substance or treatment for making a fabric or surface impervious or resistant to something else.
Related Forms:
re·pel′lence re·pel′len·cy

noun
---
repellent

Noun
(plural repellents)
someone who repels
Origin
From Latin repellens.
---