pumpkin

pump·kin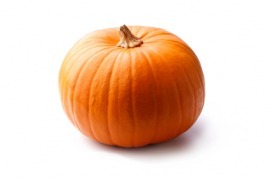 Pumpkins are usually orange.
noun
The definition of a pumpkin is a round orange or white fruit filled with seeds that grows on a vine.

An example of a pumpkin is a big orange squash that is carved with a scary face for a Halloween decoration.
---
pumpkin
a large, round, orange-yellow, edible fruit with many seeds
the vine (Cucurbita pepo) of the gourd family on which it grows

Brit.

any of several varieties of squash (Cucurbita moschata and C. maxima)
Origin of pumpkin
altered (infl. by -kin) from
pumpion
from Middle French
pompon
from Classical Latin
pepo
from Classical Greek
pep?n
, literally , cooked by the sun, ripe (hence a gourd not eaten until ripe), akin to
peptein:
see pepsin
---
pumpkin
noun
a. A round, often large squash with coarse, strongly flavored yellow to orange flesh, numerous seeds, and a moderately hard, usually orange rind.

b. Any of several plants producing these fruits, especially varieties of the species Cucurbita pepo, and also varieties of C. maxima and C. moschata.

A moderate to strong orange.
Origin of pumpkin
Alteration
(influenced by
-kin
)
of
obsolete
pumpion
from
obsolete French
pompon, popon
from
Old French
pepon
from
Late Latin
pepōn
from
Latin
watermelon or gourd
from
Greek
ripe, large melon
; see
pekw-
in Indo-European roots.
---
pumpkin

---