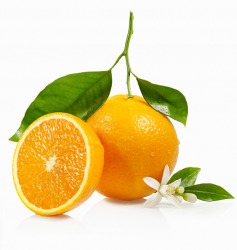 Orange
Beautiful orange California poppies.
noun
The definition of an orange is a round, sweet, juicy citrus fruit, yellow-reddish in color.

An example of an orange is a satsuma.

Orange is a color made by mixing red and yellow.

An example of orange is the color of the California poppy.
---
orange
a reddish-yellow, round, edible citrus fruit, with a sweet, juicy pulp
any of various evergreen trees (genus Citrus) of the rue family producing this fruit, having white, fragrant blossoms and hard, yellow wood
any of several plants or fruits resembling the orange
reddish yellow
Origin of orange
Old French
orenge
from Provençal
auranja
(with spelling, spelled influenced, influence by Classical Latin
aurum,
gold, and loss of initial
n
through faulty separation of article (grammar)
un
) from Spanish
naranja
from Arabic
n?ranj
from Persian
n?rang
from Sanskrit
naranga,
probably akin to Tamil
na?u,
fragrant
reddish-yellow
made with or from an orange or oranges
having a flavor like that of oranges
Orange
name of the ruling family of the Netherlands
of or having to do with Orangemen
Orange
Origin of Orange

probably named for the

orange

groves there city in SW Calif.: suburb of Los Angeles

river in South Africa, flowing from NE Lesotho west into the Atlantic: c. 1,300 mi (2,092 km)

former principality of W Europe (12th-17th cent.), now in SE France
---
orange
noun
a. Any of several evergreen trees of the genus Citrus of Southeast Asia, widely cultivated in warm regions and having fragrant white flowers and round fruit with a yellowish or reddish rind and a sectioned, pulpy interior, especially the sweet orange and the bitter orange.

b. The fruit of any of these trees, having a sweetish, acidic juice.

Any of several similar plants, such as the Osage orange and the mock orange.
The hue of that portion of the visible spectrum lying between red and yellow, evoked in the human observer by radiant energy with wavelengths of approximately 590 to 630 nanometers; any of a group of colors between red and yellow in hue, of medium lightness and moderate saturation.
adjective
Of the color orange.
Made from oranges.
Tasting or smelling like oranges.
Origin of orange
Middle English
from
Old French
pume orenge
translation and alteration
(
influenced by
Orenge
, Orange, a town in France
)
of
Old Italian
melarancio
mela
apple
arancio
orange tree
(
alteration of
Arabic
nāranj
) (
from
Persian
nārang
) (
from
Sanskrit
nārangah
) (
possibly of Dravidian origin
)
Related Forms:
or′ang·y or′ang·ey

adjective
Word History:
If we trace the origin of the English word
orange
from its source, we follow the path of the fruit as its popularity expands from Asia to Europe. The ultimate origins of the word lie in the Dravidian language family, a family of languages spoken in South Asia that includes Kannada, Malayalam, Tamil, and Telugu. The modern Tamil word for an orange, for example, is
nāram,
and in ancient times, a Dravidian word similar to this was adopted into the Indo-European language Sanskrit as
nārangah.
As the fruit passed westward from India, so did the word for it, becoming Persian
nārang
and Arabic
nāranj.
The Arabs brought the first oranges to Spain and Sicily between the 8th and 10th centuries, and from there the popularity of the fruit spread throughout Europe. The Arabic word is the source of Old Italian
arancio,
"orange tree," and this word was compounded with Old Italian
mela,
"apple," to make
melarancio,
referring to the fruit of the orange tree. Old Italian
melarancio
was translated into Old French as
pume d'orenge,
"apple of the orange tree." The
a
in the Old Italian word was replaced by
o
in Old French due to the influence of the name of the town of Orange (from which oranges reached the northern part of France) and possibly also due to the influence of the Old French word
or,
"gold" (by association with the rich color of the fruit). In the final stage in the journey of the word, the Old French form was borrowed into Middle English, at first spelled
orenge
in a text dating from around 1400. The English word
orange
begins to be used to designate the color orange in the 16th century.
Orange
Princely family of Europe ruling continuously in the Netherlands since 1815. The name was first used for a former principality of southeast France that passed to the house of Nassau in 1530.
---
orange

Usage notes
It is commonly believed that "orange" has no rhymes. While there are no commonly used English dictionary words that rhyme exactly with "orange" ("door-hinge" comes close in US pronunciation), the English surname Gorringe is a rhyme, at least in UK pronunciation. See the Wikipedia article about rhymes for the word "orange"
Noun
(countable and uncountable, plural oranges)
Adjective
(comparative oranger or more orange, superlative orangest or most orange)
Verb
(third-person singular simple present oranges, present participle oranging, simple past and past participle oranged)
To color orange.
(intransitive) To become orange.
Origin
Middle English orenge, orange, from Old French pome orenge 'Persian orange', literally 'orange apple', influenced by Old Provençal auranja and calqued from Old Italian melarancio, melarancia, compound of mela 'apple' and (n)arancia 'orange', from Arabic نارنج (nāranj), from Persian نارنگ (nārang), from Sanskrit नारङ्ग (nāraá¹…ga, "orange tree"), from Dravidian (compare Tamil nartankāy, compound of நரந்தம் (narantam, "fragrance") and காய் (kāy, "fruit"); also Telugu నారంగము (nāraá¹…gamu), Malayalam നാരങ്ങ (nāraá¹…ga), Kannada ನಾರಂಗಿ (nāraá¹…gi)).
For the color sense, replaced Old English geoluread ("yellow-red"); compare Modern English blue-green.
Proper noun
The longest river in South Africa
A city in California
A town in Connecticut
A town in France.
An unincorporated town in Indiana
A town in Massachusetts
A town in New Hampshire
A township in New Jersey
A city in New South Wales
A town in New York
A village in northeastern Ohio
A city in Texas
A town in Vermont
A town in Virginia
A town in Wisconsin
The name of the Dutch Royal House.
Prince or Princess of Orange. Title of the first-born to the Dutch Royal House.
Adjective
(not comparable)
Relating to the Orange Order.
Origin
From French Orange, from Old French Orenge, from Medieval Latin Aurasica, from Latin Aurasiō, from Gaulish *arausi 'temple (head), cheek' (cf. Old Irish ara, arae 'temples', Irish placename Arai Chiach).
---