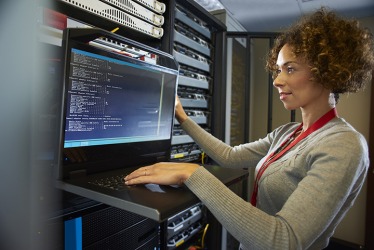 The employee is programming code on the computer.
noun
Programming is defined as the act of writing computer code, to the act of scheduling television or radio programs, or behavior that has been instilled.

An example of programming is the act a person is doing when he is writing computer source code.
An example of programming is when you schedule two television shows to fill two time slots.
An example of programming is when dogs salivate at a bell because they have always received dinner when that bell was rung.
---
programming
the programs broadcast on radio or TV
the schedule, selection, etc. of these programs

the act, process, or work of writing or developing computer programs
the code sequences that make up computer programs
---
programming
or pro·gram·ing
noun
a. The designing, scheduling, or planning of a program, as in broadcasting.

b. Broadcast programs considered as a group: the network's Thursday night programming.

The writing of a computer program.
---
programming

Verb
Present participle of program.

I was programming a new module for the software package.
He was programming the VCR.
Noun
(plural programmings)
---
programming - Computer Definition
Creating a computer program. The steps are: 1. Developing the program logic to solve the particular problem. 2. Writing the program logic in a specific programming language (coding the program). 3. Assembling or compiling the program to turn it into machine language. 4. Testing and debugging the program. 5. Preparing the necessary documentation. The logic is generally the most difficult part of programming. However, depending on the programming language, writing the statements may also be laborious. One thing is certain. Documenting the program is considered the most annoying activity by most programmers. See programming concepts, estimating a programming job and peer review.
---