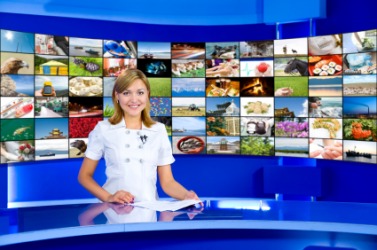 A television newsreader.
---
newsreader definition by Webster's New World
noun
Chiefly Brit.
a person who reads the news on a TV or radio broadcast
Webster\'s New World College Dictionary Copyright © 2010 by Wiley Publishing, Inc., Cleveland, Ohio. Used by arrangement with John Wiley & Sons, Inc.
---
newsreader definition by Wiktionary
Noun
(plural newsreaders)
An anchorman in a news program, a news anchor, newscaster.
(computing) A program for reading and posting to newsgroups.
English Wiktionary. Available under
CC-BY-SA
license.
---
newsreader - Computer Definition
Either a separate program or built into the Web browser, a newsreader is used to read messages from syndication feeds such as RSS and Atom. Newsreaders were first used for Usenet, the Internet-based discussion groups that existed a decade before the Web came about. Also called an "RSS reader," "news aggregator," "feed viewer" or "headline viewer," some newsreader programs provide a search capability for both newsgroups and feeds as well as local e-mail messages, contacts and other files. The term originally referred to command-line Unix utilities, such as pine, nn, rn and tin, that were used only for Usenet discussions. Graphics-based newsreaders were subsequently developed for Windows and Mac, and newsreader functionality was later incorporated into Web browsers and e-mail programs. See Usenet, newsgroup and syndication format.