plank

plank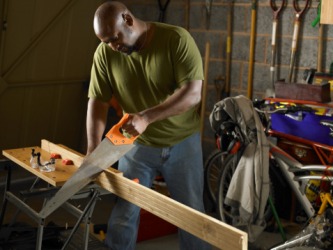 A man cutting a plank of wood with a saw.
noun
Plank is a flat piece of wood used in building or construction or the foundation of a political party or argument.

An example of a plank is a 3 x 4 piece of flat wood used to lay a floor.
An example of plank is the idea of free speech, which is a central plank of the first amendment.
---
plank
a long, broad, thick board
planking (sense )
something that supports or sustains
any of the articles or principles making up the platform or stated program of a political party
Origin of plank
Middle English
planke
from Norman French from Old French
planche
from Late Latin
planca,
a board, plank from Vulgar Latin
palanca
from Classical Greek
phalangai
from
phalanx
(gen.
phalangos
): see phalanx
to cover, lay, or furnish with planks
to broil and serve (steak, fish, etc.) on a board or wooden platter

Informal

to lay or set (down) with force or emphasis
to pay: usually with down or out
walk the plank
to walk to one's death blindfolded and manacled off a plank projecting from the side of a ship, as the victims of pirates were sometimes forced to do
---
plank
noun
a. A piece of lumber cut thicker than a board.

b. Such pieces of lumber considered as a group; planking.

A foundation; a support.
One of the articles of a political platform.
transitive verb
planked, plank·ing, planks
To furnish or cover with planks: plank a muddy pathway.
To bake or broil and serve (fish or meat) on a plank: "Boards specially made for planking food have grooves … to hold juices" ( Michael Stern )
To put or set down emphatically or with force.
Origin of plank
Middle English
from
Old North French
planke
from
Late Latin
planca
from
plancus
flat
; see
plāk-
1
in Indo-European roots.
---
plank

Noun
(plural planks)
A political issue that is of concern to a faction or a party of the people and the political position that is taken on that issue.
Physical exercise in which one holds a pushup position for a measured length of time.
(UK, slang) A stupid person.
That which supports or upholds.
Verb
(third-person singular simple present planks, present participle planking, simple past and past participle planked)
To cover something with planking.

to plank a floor or a ship

To bake (fish) on a piece of cedar lumber.
(colloquial) To lay down, as on a plank or table; to stake or pay cash.

to plank money in a wager

(intransitive) To pose for a photograph while lying rigid, face down, arms at side, in an unusual place.
Origin
From Anglo-Norman planke, Old Northern French planque (compare French planche, from Old French planche), from Late Latin planca, probably from *palanca (ultimately from Latin phalanga) possibly through the influence of planus. Cf. also the doublet planch, borrowed later from Middle French.
---