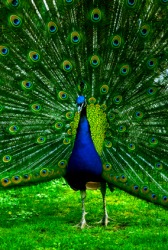 A peacock diplays his feathers.
noun
The definition of a peacock is the male of a large type of bird that nests on the ground, with a fan of very long and colorful feathers.

An example of a peacock is the large bird that spreads its feathers in a fan, showing its rainbow-colored array of feathers.
---
peacock
noun
pl.

-·cocks·

or

-·cock·
any male peafowl, esp., one of a species (Pavo cristatus) with a crest of plumules and long, brightly colored upper tail coverts that can be spread like a fan and have rainbow-colored, eyelike spots

loosely

any peafowl

a vain, strutting person
Origin of peacock
Middle English
pacok
from
pa,
peacock ( from Old English
pea
from early West Germanic borrowing from Classical Latin
pavo,
peacock, uncertain or unknown; perhaps akin to Classical Greek
ta?s,
uncertain or unknown; perhaps of Asian origin, originally ) +
cok,
cock
to display vanity in behavior, dress, etc.; strut

Peacock
1785-1866; Eng. novelist & poet
---
peacock
noun
a. A male peafowl, distinguished by its crested head, brilliant blue or green plumage, and long modified back feathers that are marked with iridescent eyelike spots and that can be spread in a fanlike form.

b. A peafowl, either male or female.

A vain or ostentatious person.
intransitive verb
pea·cocked, pea·cock·ing, pea·cocks
To strut about like a peacock; exhibit oneself vainly.
Origin of peacock
Middle English
pocock, pecok
po
peacock
(
from
Old English
pawa, pēa
peafowl
) (
from
Latin
pāvō
peacock
)Middle English
cok
; see
cock
1
.
Related Forms:
pea′cock′ish pea′cock′y

adjective
peacock
peacock displaying
Pavo cristatus
---
peacock

Origin
From Middle English po ("peacock") + coc (see cock (n.)). Po is from Old English pāwa ("peafowl"), from Latin pavo (gen. pavonis), which, with Ancient Greek ταώς (taōs), said to be ultimately from Tamil தோகை (tōkai) (but perhaps is imitative; Latin represented the peacock's sound as paupulo). Used as the type of a vainglorious person from late 14c. Its flesh superstitiously believed to be incorruptible (even St. Augustine credits this). "When he sees his feet, he screams wildly, thinking that they are not in keeping with the rest of his body."
---