verb
Outweigh is to be heavier than, or to be more important or more valuable.

When you weigh 100 pounds and your friend weighs 90 pounds, this is an example of when you outweigh your friend.
When there are many positives and only one negative on a new house you are thinking about buying, this is an example of when the positives outweigh the negative.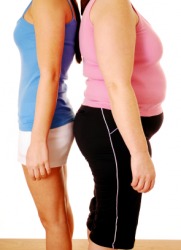 The woman on the right outweighs the woman on the left.
---
outweigh definition by Webster's New World
transitive verb
to weigh more than
to be more important, valuable, etc. than
Webster's New World College Dictionary Copyright © 2010 by Wiley Publishing, Inc., Cleveland, Ohio. Used by arrangement with John Wiley & Sons, Inc.
---
outweigh definition by American Heritage Dictionary
transitive verb
out·weighed
,
out·weigh·ing
,
out·weighs
To weigh more than.
To be more significant than; exceed in value or importance: The benefits outweigh the risks.